---
---
Pelecanos' DC
The Agony Column for Friday, June 13, 2003
Commentary & Reviews By Terry D'Auray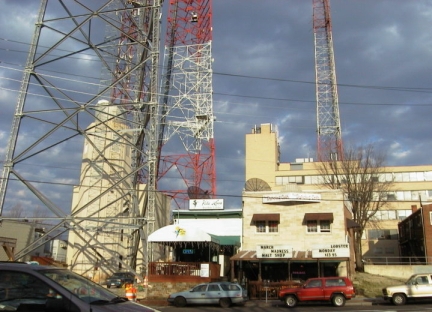 Try, just try to find a picture of DC that's not a postcard-in-waiting. Then ask yourself why.
This is the real Washington, D.C. Not George Bush's Washington, D.C., but the one way down the street and out of sight, the one with the highest incidence of violent crime of any city in the country. The D.C. George never sees. These are the gritty, urban black ghettos filled with pimps and whores, drug dealers, gangers, strippers, runners, enforcers, drugs, knives and guns. Where guns, illegal in the district, are as readily available as a Big Mac and fries. It's a vicious, violent, cruel, crude world. It's a world of stupidity, poverty, hopelessness, despair, and death. Why would you ever want to go there?
Because, as written by George Pelecanos, this world is incredible, scary, fascinating, unique, compelling and wholly absorbing, a world that grabs you from the get-go and spits you out at the end, feeling gut-punched but emotionally satisfied and ready for more. It's a world you won't soon be forgetting.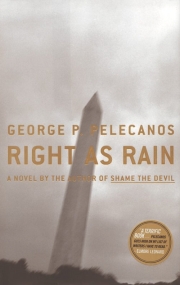 Danger: Elmore Leonard blurb sticker on front of book.
Pelecanos' trio of Strange/Quinn books is the most unique and absorbing detective fiction series I've read, ever. Beginning with 'Right as Rain' in 2001, followed by ' Hell to Pay' in 2002, and ending with 'Soul Circus' in 2003, we accompany Derek Strange, black, fiftyish ex-cop-turned-detective and his newfound partner, Terry Quinn, white, thirtyish, angry ex-cop as they make their way down some very mean streets.
'Right as Rain' pairs Strange, raised in the D.C. ghetto, with Quinn. Strange is asked by the mother of a black cop shot by a white one to uncover the truth behind her son's death. Terry Quinn is the white cop who killed her son, officially exonerated for his act, but shunned by his fellow officers and leading a leper's life. Quinn is hot, Strange is cool; Quinn packs a gun, Strange packs 10x50 binoculars; Quinn has in-your-face attitude, Strange has quiet strength; Quinn is defensively angry and secretly guilty, Strange is overtly calm and secretly guilty. In an initially uneasy coupling, they probe the background of the slain cop, and each other. They uncover connections to the world of drugs and prostitution, and they connect with each other through their shared love of western movies and music. It's a great match.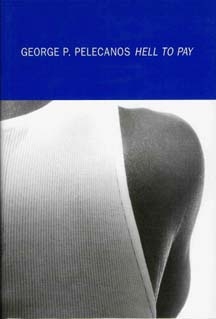 "And finally, the one that I have about 30 of left, and that won the LA TIMES' Prize for Fiction last month, HELL TO PAY, with Kellner's minimalist dj." Dennis McMillan
In 'Hell to Pay', Strange and Quinn search for a 14-year old suburban run-away-turned prostitute and meet Worldwide Wilson, the territorial pimp. They team as well, to coach the local black football team, a rag-tag group of street-smart, fatherless kids who dream of becoming the next Deion Sanders. When one of the football players is brutally shot, Strange and Quinn are honor-bound to track the perpetrators. Along the way, they help bring down the ghetto drug lord, Granville Oliver, a man with an old and surprising tie to Strange.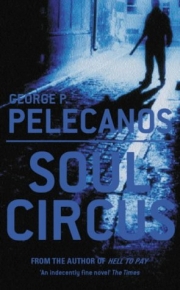 The UK edition of this book is the true first. But....(see below).
In 'Soul Circus', Strange is working on Oliver's defense team, while Quinn is working on finding another runaway teenager. Both are hired by Mario, nicknamed Twigs, a sleazy, wimpy, waste of a man, to find his runaway girlfriend, who left taking some pretty good drugs along with her. Both Strange and Quinn feel uneasy about this client, a feeling reinforced when they discover he's the brother of yet another drug lord who's poised to take over Oliver's territory. The drug-lord and sleazy-client threads merge into a super-tough story of rival drug dealers, an ex-cop gun dealer, gang wars and death.
Race and economics permeate these books. Whites don't belong. This is a black world, dominated by young black hustlers and aimless black teenage boys. They're urban project kids with nothing to do but "hang and get your head up". Strange and Quinn banter good-naturedly about black-white differences, but other interracial interactions are not so harmless. Money here means respect and power and real money comes only from crime. It's ostentatiously displayed in decked out cars, status-symbol guns, and just the right music, just the right clothes, just the right shoes.
But there's another side to this urban ghetto, a side where people go to work, read newspapers, cook dinner for their kids, and take them to football practice. These people look-away or stay-away to survive, but they also stand up against brutality and crime and for decency and compassion. It's a world of old-fashioned values, kinship and community made all the more poignant and achingly sad by the bleak hopelessness of the environment. 'Little House on the Prairie' set in an urban wasteland. Were it not for the balance between ghetto violence and ghetto community, between acts of brutality and acts of beauty, this world would be unbearable.
The characters in these books are grand, fleshed out and finely detailed. Strange and Quinn, strongly written, dominate, but there's a fine cast of recurring supporting characters including Strange's office assistant/lover Janine, a strong, caring woman and her teenage son Lionel. Toss in Quinn's uniquely interesting lovers and there's much lively, lusty sex. The various drug lords, gangsters, gun dealers and hangers-on are well differentiated; some shifty, street-smart, and scared and others spaced out, stupid, and scared. Everyone here is scared.
| | |
| --- | --- |
| | |
| Another rockin' McMillan cover by Joe Servello. | "And now, the BACK cover of SHAME THE DEVIL, just because it's cool--it shows the bar where Nick Stefanos works." -Dennis McMillan |
George Pelecanos writes the language of the streets, in street-slang that conveys brutality far more powerfully than run-of-the-mill four letters words. The slang is hard to read at first, but develops a character and cadence that's ultimately mesmerizing. Pelecanos is a unique stylist, gifted with the ability to communicate the talk, sounds, smells, sights, and soul of a world you're likely never to see. You learn how to walk, how to talk, how to dress. You learn which cars to drive and how to deck them out, which guns are cool and which ones aren't, and exactly how much eye contact is right. Too little, you're pegged a loser, too much, you're disrespectful. Either will get you killed. You'll not be forgetting where you are.
These books are beyond violent. The dogfight scene that opens 'Right as Rain' is gory and gruesome. The gang boys' conversations about women are grossly crude, bordering on reader rape. Every violent death -- and they all are -- is described in graphic, slow-motion detail, like the closing scene of 'Bonnie and Clyde'. These are not books to be read on a full stomach and not to be read at all if you have a weak one.
I'm wholly seduced by these books. They take me to a world that should be hopeless, but isn't, that should be repellent, but resonates. It's a world of vivid contrasts and stark realism. I leave this world emotionally wrung out, feeling lucky to be alive, but very glad I went.
All three books in the series are tough and gritty, and I suspect that ninety percent of all readers will hate them. To recommend them is a risk. But Pelecanos took a risk in writing them, so I'm hoping there's that 10%-group out there who's willing risk reading them.
All series books are best read in the order written. With Pelecanos's Strange/Quinn series, this is an absolute mandate. Do not read out of sequence. And I would discourage you from reading them back-to-back. All good series, no matter how well written, can grow repetitive and familiar when read one after the other. Read a book or two between each of these and you'll enjoy them more.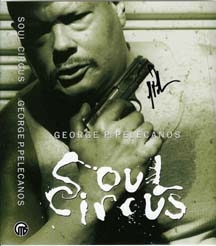 Pelacanos' via McMillan would have featured author Gary Phillips portraying one Horace McKinley, a hard-case gangster from the book. Pelecanos' signature is the smoke of the smoking gun.
A Note to collectors. The UK Edition of 'Soul Circus' is the true first but the dust jacket featuring author/cover model Gary Phillips was created by Dennis McMillan for what should have been the true first. It appears that some US vendors may have shipped the UK hardcover with the McMillan DJ. From here, let's let Dennis McMillan tell the story:
"Okay, here's the one that didn't happen -- due to Orion over in Old Blighty's blindsiding me as to their pub. date, which was SUPPOSED to be one week before the Little, Brown pub. date (first week of March), and then I found out they had books in the stores in the U.K. the week of Christmas, so I had to cancel my ed., as it would no longer have been the true first ed. I went ahead and did this dj, since I'd already invested in it, and it's now just about sold out (I did 500 of them, that I sold in pairs, that are signed and numbered by Pelecanos, Gary Phillips, and Michael Kellner). Gary is portraying one Horace McKinley, a hard-case gangster from the book, and Pelecanos' signature looks like smoke pouring out of the barrel of the gun Gary's holding."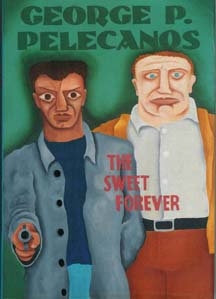 The Dennis McMillan Publications cover for 'The Sweet Forever' is by Wayne Kral, who is now manager of The Mysterious Book Shop in New York.
Pelecanos has written eight other books, featuring different main characters, all set in Washington D.C. and all I've read are excellent. Several feature Nick Stefanos, a Greek detective in D.C., who makes an unforgettable appearance at the end of 'Soul Circus'.
Vis a vis the tables below, figure that anything from McMillan is earlier and better; even if it didn't come out earlier, the production values on his books certainly trump anything that New Yawk currently has to offer.
Note: A * indicates that the book was also done by Dennis McMillan; seek out these copies first, as they're far nicer than the trade copies.
George Pelecanos Strange/Quinn series
| | | | | | | | |
| --- | --- | --- | --- | --- | --- | --- | --- |
| Title | UK Date | UK Publisher | US Date | US Publisher | US ISBN | US Pages | US Price |
| Right as Rain | 02-22-2001 | Orion | 03-07-2001 | Little,Brown | 0-316-69526-2 | 332 | $24.95 |
| Hell to Pay * | 02-21-2002 | Orion | 03-07-2002 | Little,Brown | 0-316-69506-8 | 344 | $24.95 |
| Soul Circus | 12-25-2002 | Orion | 03-07-2003 | Little,Brown | 0-316-60843-2 | 336 | $24.95 |
George Pelecanos -- Other Books
| | | |
| --- | --- | --- |
| Title | US Date | US Publisher |
| A Firing Offense | April, 1992 | St. Martin's Press |
| Nick's Trip | March, 1993 | St. Martin's Press |
| Shoedog | May, 1994 | St. Martin's Press |
| The Big Blowdown | June 1996 | St. Martin's Press |
| King Suckerman | August, 1997 | Little,Brown |
| The Sweet Forever* | August, 1998 | Little,Brown |
| Down By the River Where the Dead Men Go | September, 1999 | St. Martin's Press |
| Shame the Devil* | January, 2000 | Little,Brown |