F&F Shadowmancer Special Edition

Special -- so special.
Not surprisingly, bigger publishers are starting to twig to the idea that limited and special editions can do good for more than the fans. They can make a bit of money on the side. So look to Faber and Faber, who have just released a special edition of their hit novel 'Shadowmancer' to lead the way. Why do you care about this? This is why. 'Shadowmancer' is already something of a hit in the UK. It's going to be launched in the US with a lot of publicity and a lot of fanfare, and given the rather conservative bent of the novel (it does, after all, discuss Good and Evil in terms familiar to church-goers), it could be quite a smash over here. Presumably, it won't benefit from the publicity attending book-burnings, but those who would normally burn might be inclined to buy instead. What a thought. So what happens to the value of a limited edition from a small UK publisher when a book hits big in the US? Tried to buy any first editions of the early novel in the Series-That-Need-Not-Be-Named lately? Prepare to mortgage your house if you do!

The special edition of 'Shadowmancer' includes new material, including an extra chapter and more information about the setting of the novel. If you like to give yourself the excuse that you're buying books as an investment, here's the perfect excuse!
Easton Press Leather-Bound Power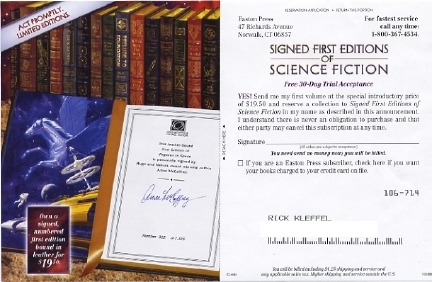 Come on baby -- sign up and give me yo money!
Yes, we all like limited and special editions. But I've got to admit that I've never been fond of the Easton Press version of limited edition books. Yesterday, I got another mailer from them and had to glance through it. I've got to admit that they've got some great titles. Ian Watson, Paul McAuley, Kim Stanley Robinson, Gregory Benford -- there's a lot to admire here. Why then haven't I joined then?

Well, for one thing, it isn't cheap. At $68 a pop -- plus "shipping and service" -- they're not giving these books away. Still, that's never been a big factor for me.

To start with, I've never been enamored of the general design of the books. Yes, they do sport some nice illustrations inside. But they're very trailing edge illustrations -- color paintings of spaceships and dragons and what not. It's the kind of thing that, while it may be nice is also faintly embarrassing. I mean -- look. Let's say you work in an office, the sort of anonymous environment one imagines in theory. You bring in these editions and start showing people the pictures inside and I can guarantee you that their eyes will glaze over faster than dipped donuts. Moreover, it's sort of unimaginative, which seems rather a shame for a genre of literature that prides itself on imagination.

Then there's the exterior design. I think that's a real show-stopper here. These books look like they were designed to be props in an Agatha Christie movie, read by doughy-faced old men in uncomfortable suits with a monocle. I have no suit and no monocle!

Sans DJ, with these lumps in the spine so large that they look faintly tumorous, they kind of give me the heebies. Now I could actually deal with a lumpen, tumor-laden book, but the colors to which the leather has been dyed trend towards hurting my brain. Why, oh why, must they be fire-engine red? Yes, they're expensive looking, but they shout it so loud, you feel like they're blue-light specials at a department store which inclines you to wash your hands after exiting. They're the leather-bound equivalent of muscle-bound athletes. Powerful, perhaps; pleasant, no.

The titles too give me pause to consider. Some of them are really musty, some of them are fairly new, and some of them are sort of old. And you know, it just occurred to me what the real problem is here. It's that subscription model, the CD/Book Club/Movie club deal that you have to sign up for.

If you have a product, then you should sell it. Have inventory, offer the inventory, sell the inventory, let the customers choose what they want. Easton Press operates on the old "If you don't like it send it back" model. This drives me crazy. Nobody wants to open a package, check it out, then be forced to send it back. Tell me about it on a web site, or let me order by phone or mail. Tell me precisely what I'm getting and when. Then I'll decide if I want to buy it. I'll subscribe to a magazine, yes, the newspaper yes, even to some publishers because I trust their editorial judgment. And yes, here's another reason that Easton bugs me. There doesn't seem to be an editorial vision behind the selections, other than "Leather is better". The choices seem to be some sort of nexus between known sellers and known authors. It just feels impersonal. That's it -- impersonal. Prop novels. When they get some body to edit their line, Chip Kidd to design it, then I'll look. Until then, I'll recycle the envelopes and their contents -- and wonder how I got on their mailing list.