'Something Rotten' This Way Comes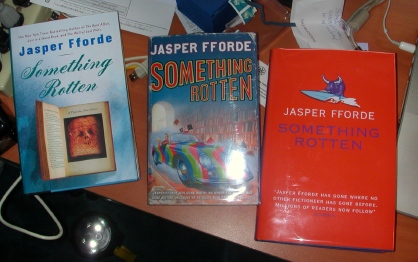 The three faces of Jasper Fforde. US hardcover, UK Trade Hardcover, UK Collector's Edition Hardcover


Readers will have to excuse the inexcusable delay for this article, which has been in the planning stages for what -- five months now? Well, as long as I knew that there were going to be a bevy of choices when it comes to first edition hardcover copies of Jasper Fforde's latest Thursday Next novel, 'Something Rotten'. Fforde and his publishers both here in the US and in the UK have managed to put together a series of editions that serve all readers on both sides of the pond equally well, and for those who are rabid collectors -- and I suppose in this case, I'll cop to that description -- well, there's a cornucopia of great news.


The US Hardcover, front and back. Click on images for full-size view.
The UK Collector's Edition Hardcover. Click on image for full-size view.
The UK Trade Hardcover. Click on images for full-size view.
If you're new to my website, or to Jasper Fforde, I'd suggest you read the reviews of each of his previous novels, then hotfoot it out to buy the novels themselves. They should definitely be read in the correct order; 'The Eyre Affair', 'Lost in a Good Book', 'The Well of Lost Plots', and his latest, being covered here, is of course 'Something Rotten'. As ever, there are links in the reviews to the many columns I've dedicated to Fforde and his work.

First and foremost, what readers need to remember is that the best news is simply that there's a new novel by Jasper Fforde. Hell, they could release it in an eye-killing PDF-file for your palmtop and it would still be prose written by Fforde in an extension of his Thursday Next series, and thus, quite likely to be great work. That said, I haven't read it yet. But I've got over the worrying stage as far as Fforde's work is concerned. He's getting better and better. I don't see this as being anything less than another outstanding entry, even if you have to read printouts from your office's fax machine.

But lucky you, wherever you are. You'll not be reading printouts from the office fax machine. As I discussed before, Harper Collins and Hodder Stoughton were, well almost in sync in releasing this novel in hardcover on both sides of the Atlantic. In point of fact, the US hardcover was available in the US slightly before the UK version, and the reason that I've waited so long to run this compare and contrast article is that I've been waiting on my UK copies, which just arrived yesterday afternoon in a big honkin' box. So now I've got all three lined up here on the desk at Agony Column HQ for a hands-on compare and contrast. No sitting round looking at JPEGS. This is the real deal, all scanned early this morning for your delight.

First, let's look at the general release data and format. The US hardcover of 'Something Rotten' (Viking / Penguin Putnam; August 5, 2004; $24.95; ISBN 0-670-03359-6)) is 6" by 8.5", and it's 392 pages long. That includes all the advertisements and a page with only the suggestion that the reader "Look for the next Jasper Fforde adventure in 2005." That page is not in either of the UK editions, but don't get too excited. It's just Times-something font set in the center of the page, and other than the ambiguous wording doesn't tell us anything we couldn't have guessed. Speculations are to follow.

The UK Royal Hardcover Limited Edition, also known as the UK Collector's Hardback Edition, (Hodder & Stoughton; July 28, 2004; £18.99; ISBN 0-340-82597-9) is the largest of the three editions. It's 6.5" by 9.5", and it's exactly 400 pages long, with no "Look for the..." page. Spine lettering reflects the design on the dust jacket. However, here's something to note; it doesn't show up in the *.* search. And I can't find anything about Fforde on the Hodder Headline homepage.

The UK Hardback Edition (Hodder & Stoughton; July 28, 2004; £12.99; ISBN 0-340-83558-3) is the smallest of the three editions at 5.5" by 8". The pagination and layout is precisely the same as that of the Collector's edition; the font and leading are smaller. Once again, spine lettering reflects the design on the dust jacket. It does show up in the *.* online catalogue.

Of course, all three editions have different covers. Fforde states on his website that the cover for the UK Hardback edition is "pretty much what I had in mind for the first book". And yes, it is pre-scuffed for your entertainment. Of note is the back cover of the US edition, with faux pages so real I had to look twice to make sure the book wasn't mis-aligned when I scanned it.

What readers and a certain subset of collectors want to know is the variance between the various editions on the inside. For the UK editions there is no difference. Pagination, layout, adverts at the back -- they're entirely, one hundred percent the same. And while there are differences between the US and the UK editions they are decidedly minor. The US edition features a larger Fahrenheit 451 warning up front, and that tantalizing final page. The UK editions also now display some of the chapter-starting quotes on faux torn-off pages; the US edition displays them all as text. All the editions come with some very nice little line illustrations, six in all, by Maggy Roberts.

The upshot of this is, if you're a reader, and not a collector, that any of the three editions will do just fine. There are the differences in physical size between the two UK versions, and you may want to wait for the large-print version (if you can wait), or opt for the Collector's edition (if you can find it). Other than that, congratulations are due to Fforde and his publishers for making things largely equal on both sides of the pond for all readers.


One of six of Maggy Robert's fine illustrations. Click on images for full-size view.
Now if you're a collector, you have to make a decision. If you're completely swimming in cash then just go to Jasperfforde.com and you can look at the bookshelf to get a bazillion editions, well that is, if you can find them for sale. I'm sure someone has them -- not me, and what's worse, I'm not buying. Since authors don't get any dosh from the resale of proofs, I might suggest that you avoid buying those as well.

No, for me, it's a couple of shots of the Hardcover Collector's edition, one of the trade hardcover edition, and one of the US edition. With that, I'm good to go, and that should hold most of you. The rest of you-- give some money to charities. You don't need to buy proof editions of these books.

On the other hand, everybody, everywhere should give Jasper Fforde a run. Fforde is brilliant in a way lots of smart people aren't. He knows his strengths and he plays to them. He's kept an imaginative series fully engaged and engorged, getting better but not necessarily bigger. Fforde's not just a great writer, a fun writer, but he's an important writer as well. And busy -- just look at that damn website of his! Really, it's a good thing he has a Boss Coming button on his pages because you can spend a couple of weeks paging through, and if it were a pay site, then it would be worth every penny and then some.

And no, you don't need a Boss Coming button for this website, do you? I mean -- your boss is reading this website too! If not, tell them to do so -- they'll thank you and so will I.