Lights, Camera, Embarrassment

Wallet size, especially after you pay for it.
Yes, I'm here to tell you about books you might like and might not hear about. We stray as far as we feel like straying in our articles. One day, we might write about a five-buck paperback horror novel. The next day, we might write about an exclusive limited edition from Night Shade or Subterranean. Examples of both may be found simply by browsing the News Index.

Today we're straining at the leash looking at a book my wife bought me a while back that just came in the mail -- 'Lost Buildings' by Ira Glass and Chris Ware (WBEZ Chicago / PRI ; 2004 ; $120.00). Yes, that Ira Glass. Yes, that $120.00. It includes a DVD, and a book about the size of your wallet. If your wallet is as anemic as mine, that is. Now, every book has a story. So, here's the story of this book.

About what, a month -- maybe a month and a half ago? -- it was pledge break time at our local NPR station, KUSP, where I am all-too-often (for some people's tastes) allowed to produce interviews. You hear the unexpurgated versions on my site, if you care to. So, during the broadcast of one of my colleague's interviews -- damn, I can't remember who it was he was interviewing, and it was good -- the book group got together and did their pledge break shtick. They provided the literary voices and held down the huckster role. So what? We are actually trying to get money out of the audience. Anyway.

While the interview is playing and the phones are emitting a din-like silence, I'm slipping out of the room and phoning the wife at work and requesting that she call in and make a pledge. When the time comes for us to talk they handle the smooth "We're bringing you the best in..." etc and I handle the "Thanks go out to!" in my best Ronco-finger slicer voice. And of course, it soon becomes obvious that I'm thanking my wife.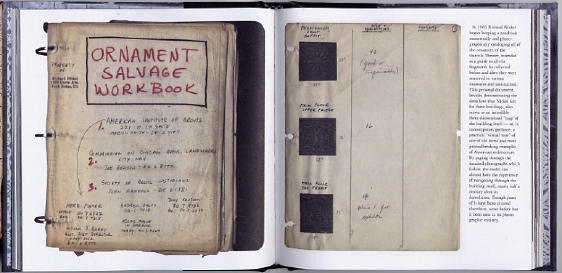 Thanks honey. It's very cool.
Now, to my mind, the point being to bring in the money and help juice the wheels, well, calling the wife to make a pledge is a good thing. But the vibe I got was more along the line of what one might expect were one to pick up salad with your fingers in a fancy restaurant. Sure, I could do that, but -- really! Really. I did it. I'd do it again.

Oh, I have no shame, but the station has about $120.00 in pledge money I can guar-an-fucking-tee that it would not have otherwise had. Not because I'm averse to pledging mind, you, but because my brain is very small I figure I might as well use my pledge to pump up the portion of the station's schedule that serves me best. Yes, that's selfish, but so be it. Also, this is a time when I remember to do so. But hell, I'd probably wear my underwear on my head -- an all too regular occurrence -- just get the damn book, which, and I checked, you can't easily get any other way.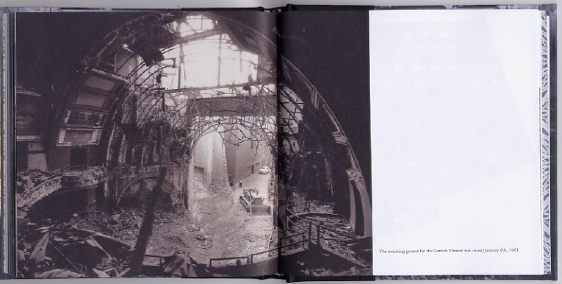 "The wrecking permit for the Garrick Theater was issued January 6th, 1961
Well, that tempest blows right out of the teapot, and you can tell I'm over it. Right! Well, what the hell, because the end result is that I now have this 'Lost Buildings' booklet and DVD and it's a gorgeous, beautiful, book that I utterly love. (I admit, I saw a sample back then, but my wife made the choice entirely on her own.)

So that's the story that gets this book sitting on the table next to my wallet. A leaner, meaner wallet to be sure! The book, well -- it's small, with tiny print, but beautifully designed. Here's the deal on the book. You get this DVD, which is essentially a slide show that Ira Glass did to accompany a live rendition of 'This American Life' in Chicago. The show featured Tim Samuelson, a guy who was and is still fascinated by the architecture of one Lewis Sullivan, who built baroque, complex buildings in Chicago. It's 'This American Life'. It's a depressingly brilliant and low-key show that week after week offers fantastic storytelling, fiction and non-fiction.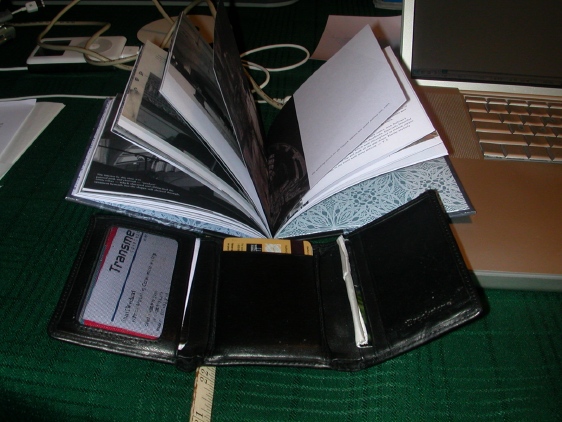 That's my son's iPod. I can't afford one. I spend way too much money on books. Cringe with me!
Most of these buildings have been destroyed. 'Lost Buildings' contains photos and diagrams of Sullivan's attempt to preserve even parts of the buildings. It contains a DVD of the slide show -- a sort of visual version of TAL that you can watch to counteract the hyperkinetic crap that comes through your TV. Watch the DVD first, then read the little booklet.

Alas, the book is not signed. Well, you can't have everything. It is unique, it is gorgeous and it is expensive as all-get out. You'll watch the DVD, you'll page through the book and get lost in that lost building ambience that I at least love. You can buy it from KUSP here, and if you do, mention ME ME ME. Buy my Ronco finger peeler. Of course, you can also buy it from your local NPR affiliate or the NPR homepage. Or PRI. Feel better. Feel worse. Offer not offered where not offered.

Pick up salad with your fingers in a fancy restaurant.

But wash your hands before you go back to your books.