05-27-05: Jack Williamson Steps Through 'The Stonehenge Gate'; Cherie Priest Offers a Sumptuous Meal of 'Four and Twenty Blackbirds'; Make Magazine V.02
Old School Ass-Kicking

Stonehenge gate, star gate, no matter what gate you go through, you end up back here on earth.
Talk about old school; Jack Williamson published his first story in 1928. And that's why we all want to be writers. We want a job that we enjoy so much that we keep on kicking ass some 77 years after we start. His latest novel is 'The Stonehenge Gate' (Tor / Tom Doherty Associates ; August, 2005 ; $24.95), and I made the mistake of opening it up to page one, well, page eleven really, but -- didn't come up till chapter two. Williamson has a direct, easy-to-read style that "grabs you" as editors are wont to say.

Dont come here looking for new-wave space opera or magic realism. Williamson's tale launches when one of four poker buddies reveals that he has found, well, what I'm calling a Stargate, under the dunes of the Sahara. When they unearth the damn thing, it proves to have a very personal connection one of their own, as well as various and sundry parts of the universe.

Some of those places in the universe are the shiny singularity-bound civilizations that are popular these days, pristine and frightening. Others are the filthy primitives, ravaged by war and violence. To my mind, our world slots in the latter category, and I can't imagine that anyone more advanced is going to be happy to see us coming, unless they're hoping to buy low and sell high.

Williamson has the kind of attention-sucking simplicity that enables him to blot out the reader's world and replace it with his own. That world is considerably more entertaining than the one you're likely to find this book in. Of course, you do have to give our primitive, war-torn, violent and ugly world some credit. We may kill one another with great ease, we may rob from and starve one another with a wave of the hand, but damn. No matter how dire things get, you can count on grotty old Earth to provide you with an excellent means of avoiding any awareness of just how unpleasant it has become. Books. We make some excellent books here. Read this and don't worry about that high-pitched whining sound. Look, you dont really want to outlive the apocalypse do you?




Supernatural Southern Gothic
Book design by Nicole de la Heras, but no illo credit -- nice illo, IMHO.
Readers should know that I'm a huge fan of the Southern Gothic. Flannery O'Connor is the Queen, The Goddess, the End-All and Be-All of this genre. If you've not read her Collected Stories, for shame! Hie thee hence and read them, then to 'Wise Blood' and 'The Violent Bear it Away'. Damn, I envy you.

Once you've picked yourself up out of the dust, you can move on to William Gay. His novels 'The Long Home' and 'Provinces of Night' offer gloriously sculpted prose and intensely imagined characters scratching their way across hardscrabble landscapes. I'll admit to being rather proud that I havent frothed at the mouth recently over his collection of short stories, 'I hate to see that evening sun go down', surely one of my favorite reading experiences. We can expect a new novel from him, 'The Lost Country', late next year. This is worth the wait.
Closer to home and closer to the horror genre, David Searcy's 'Ordinary Horror' and 'Last Things' cut a distinctive and reader-challenging swathe through Southern Gothic fiction. A fair number of readers may want to launch Searcy's work after trying to assimilate one of his incredibly long sentences, but if you can handle his style, well, his work is wonderfully creepy and unsettling.

This takes us on a short journey from the mid-1950's to right now, where we encounter Cherie Priest's 'Four and Twenty Blackbirds' (Tor / Tom Doherty Associates ; October, 2005 ; $13.95 TPB). Now, this is described as Supernatural Southern Gothic, but it looks a tad more modern than its ancestors. Readers who enjoy the work of Caitlin Kiernan, for example, in 'Threshold' and 'Low Red Moon' are likely to enjoy this one. Eden Moore is one of the many folks who can see ghosts, in this case, a trio of dead women bound to protect her from harm. Chances are that they're going to have their abilities tested in the course of the narrative, which encompasses African magic, our Southern Favorite, Inbreeding, and most importantly, a nicely rendered first-person narrator who will entrance readers from her first encountered with scented marker pens. Readers wanting an advance look at her style might want to check out her blog page.


The more restrained cover for the Marietta Publishing release.
This book has an interesting history. It was first published in a "shorter, unrevised version" by Marietta Publishing, in 2003. I dont know about you, but "shorter" and "unrevised" seem sort of mutually exclusive. So, I'm hazarding a guess that the manuscript from the original was revised to become a longer form under the auspices of Liz Gorinsky, the editor at Tor. A quick check tells us that Marietta publishing is an imprint of Meisha Merlin Publishing. You attend a Worldcon, I think youre going to see their booth -- at least I seem to remember one. Other Marietta authors include Stephan L. Antczak, Gregory Nicoll, and C. J. Henderson. So we're talking a Deep South author from a Deep South publisher, associated with some edgy, interesting authors. Now graduated and re-edited by the fine folks at Tor. In a single volume! (Oh Tor, I'll forget, eventually.)

For some reason, Tor seems to think that we might mistake this one for a fantasy. There's no way that can happen, this is a nicely done southern-tinged literary horror novel. Yes, I said it, the dread genre: HORROR. This is not dark fantasy, nor is it magic realism. This is supernatural southern gothic, horror, I tell you -- the horror. I know the booksellers are more frightened of the horror genre than they are of the monsters described in horror novels, but they'll have to get over it. I dont know what they're going to do with this one on the shelves. Will they stick it with fiction, which is probably where I would put it? Or will they file with books full of elves and magic and whatnot? Who knows, it's very early days yet. You know, some bookstores even have a horror genre section. Bookshop Santa Cruz does, as does Logos; it's essentially one bookcase, or part of one bookcase. You may have to ask your book-helper to help you find this when it comes out. But you know, with a pub date in October, maybe they're planning on the Halloween-resurrection of the horror genre shelves. Or maybe, they'll file Priest just before O'Connor in the fiction section. Where she belongs.


HOWTO Every Damn Thing
Note tattered top corners indicating use by teenager.
Yes readers, I'm still subscribing to all my magazines and even dip in now and again. But with books heating up so much, I'm focusing my efforts here on that market. Moreover, you already should be able to tell which magazines are appropriate for you.
But I just picked up '
Make: Technology on Your Time
' and I wanted to mention how utterly outstanding it is. It's expensive but well worth it.
Back in the day, when I was but a lad, my father subscribed to Popular Science, and I religiously read each issue. 'Make' is Popular Science for the 21st century with a
Boing Boing
sensibility. Well, at least, it was via Boing Boing that I discovered and subscribed to 'Make' for my teenage son, who is a video-gaming paintball-fort-building typical teenager. The real shock arrived when he grabbed it, holed up in his room, read it and did one of the projects for it just for grins. Damn magazine earned its keep right there.
But then I had a chance to get a gander at it, and I have to say that it's really nice. The layouts are very easy on the eye, an essential feature. If you're supposed to undertake the projects inside, you'd better be willing to look at the magazine and be able to understand the layouts and build the stuff. My son installed Linux on his iPod, or so he told me. I enjoyed Phillip Torrone's 'Podcasting 101' article, and I'm in the process of implemented some of the stuff from it.
And I'm certainly waiting for the Make Time machine, so that I'll have enough time to undertake all the projects in Make that look interesting. Readers who have more time than I -- or who are as compulsive, are directed to the Make home page. Trust me, everybody you know will love Make magazine. And you may just discover that your teenager is not only able -- but willing -- to read. That's something you just can't make, with anything, at any price.
05-26-05: Jane Yolen and Patrick Nielsen Hayden Offer Up 'The Year's Best Science Fiction and Fantasy for Teens'; Gardener Dozois Fathers 'Galileo's Children'
Not Just For Kids

Pesky dragons. The droppings are hellishly huge.
Science fiction and fantasy are still often pejoratively thought of and referred to as "juvenile fiction". Except, of course, when a title conquers the box office or the bestseller lists. Then the genre elements are ignored or downplayed in favor of a reading that usually speaks of archetypes. Rarely is it noted that science fiction and fantasy have a wider appeal because they dont talk down to their audience.

In fact, science fiction and fantasy often make the appealing-to-the-reader assumption that the audience is perhaps a little smarter, a little hipper than the average bears. And indeed, with a young adult populace that spends an increasing amount of time playing sophisticated video games premised on complex science fiction premises, you'd think that populace would be ready for science fiction and reading. But the fact is that the science fiction and fantasy reading audience is getting older. We've got to interest, to enlist the kids who are playing video games in reading books. Otherwise, the genres we love are in for a starvation-style apocalypse.

So it's particularly fascinating that all the choices in Jane Yolen's and Patrick Nielsen Hayden's 'The Year's Best Science Fiction and Fantasy for Teens' (Tor / Tom Doherty Associates ; May 4, 2005 ; $17.95 HC, $12.95 TPB) all come from magazines and websites that publish adult fiction. From Bradley Denton's Hugo-nominated 'Sergeant Chip' (first published in the venerable F&SF) to Kelly Link's 'The Faery Handbag' (first published in Ellen Datlow's and Terry Windling's indispensable anthology 'The Faery Reel', readers are offered a selection of intelligent, well written fiction that just happens to be suitable for teenagers. To my mind, this mostly translates to, "I would not be embarrassed to hand this to my teenager." It indicates, if anything, that the fiction is probably of higher quality than you might find in other Year's Best anthologies.

Why? Since the dividing line between adult fiction and young adult fiction is generally thought to be explicit sex and violence -- or a combination of the two -- their absence in these stories indicates that they are unable to simply deploy sex and violence to create a strong effect on their reader. That means that these stories are really sort of the cream of the crop. They have to entertain and entice readers the old-fashioned way -- with a strong, well-written story.

Included beyond the first two mentioned are: S. M. Stirling, 'Blood Wolf' (from 'The First Heroes', edited by Harry Turtledove and Noreen Doyle), 'Sleeping Dragons' by Lynette Aspey (first published in Asimov's SF), 'Endings' by Garth Nix (first published in 'Gothic!' edited by Deborah Noyes), 'Dancer in the Dark' by David Gerrold (first published in F&SF), 'A Piece of Flesh' by Adam Stemple (first published in "Faerie Tales" edited by Martin H. Greenburg and Russell Davis), 'CATNYP' by Delia Sherman (first published in 'The Faery Reel' edited by Datlow/Windling), 'The Wings of Meister Wilhelm' by Theodora Goss (first published in Polyphony 4, edited by Deborah Layne and Jay Lake), and 'Displaced Persons' by Leah Bobet (first published on Strange Horizons, edited by Susan Marie Groppi, Jed Hartman and Karen Meisner).

Given the variety of the sources, only the most compulsive short fiction readers are going to have copies of the sources, especially since one of the stories hails from a website. That makes buying this potentially a lot easier. You know what makes it even easier? Tor is simultaneously releasing hardcover and Trade Paperback versions. The compulsive of this grey globe will want the hardcover, of course, and that probably means a majority of my audience. But should your other half question you on this, just say you wanted to check it out before you bought the trade paperback for the actually child to read. Of course the whole teens angle gives readers an excuse. "I bought it for Jimmy/Jill," you can say when it shows up.

And no, that doesn't work for me either.


The Politics of Science (Fiction)
The Galileo Code, coming soon to twenty gazillion bookstores, movie theaters, and sweatshops near you.
There's nothing new under the sun. This sun of course is now generally understood to be at the approximate center of the solar system; with the Earth the third planet revolving around said sun. But we certainly know that this wasn't always the predominant belief, and what's more, there's no certainty that it will remain the predominant belief. We live in times during which science itself is under attack from religious and political leaders. That's why it's good to remember other times when the two came into conflict, and of course what better way to get a grip on this conflict than 'Galileo's Children' (Pyr / Prometheus Books ; August 2005 ; $25.00) edited by the venerable Gardner Dozois.

Science fiction is often used to make political statements, and science fiction's most famous works are known for their very political statements, from George Orwell's '1984' to Ray Bradbury's 'Fahrenheit 451' to Anthony Burgess' 'A Clockwork Orange'. Often the works are reactions to current political climates. For example, it's said that Orwell originally wanted to title '1984' '1948', since it's his fictional take on his time in the British propaganda machine. This time around, Dozois is bringing us 'Galileo's Children' in reaction to the current anti-science binge, much of it the product of the current US administration. Dozois' passionate introduction earns at least half of the cover price.

Of course a stellar selection of fiction earns the rest and then some. I hope that most readers will have read at least a couple of these stories. There are a number of venerable favorites in here. Arthur C. Clarke's 'The Star' and George R. R. Martin's 'The Way of Cross and Dragon' are in at least three other books on my shelves. But there are a number of less-familiar titles in here as well, including Paul Park's 'The Last Homosexual' and James Allen Gardner's 'Nine hearings on the Existence of Snakes in the Human Bloodstream', coming to a deliberative political body near you Real Soon Now.

Once again here we have reason to look to the Pyr imprint with delight. Now, while I would expect that this is the type of science fiction that Prometheus itself would sanction, I'm really glad to see this collection coming to light. And with a nice hardcover introduction, there's a chance, however small that with fiction, we reach the hearts -- and then the minds -- of readers who might not worry enough about this fight, thinking that science will always overcome superstition. Alas, that's not the case. And in fact that belief -- that science will overcome -- is itself a most pernicious superstition.



05-25-05: Daniel Clowes Visits 'Ice Haven'
"A Narraglyphic Picto-Assemblage"
Was it only last December that I actually wrote a
column
about reading graphic novels? It seems like a lifetime ago. One of the concerns I treated in that article was the problem of taking readers from a words-only environment to a words-and-pictures world. This was not something I saw addressed in any of the works I reviewed back then, and that's understandable. Theyre telling a story.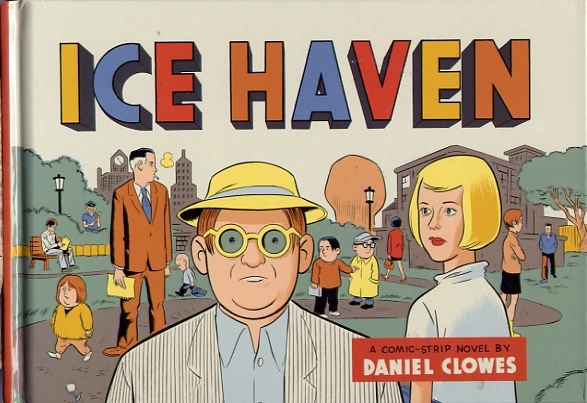 "Tell me a story and maybe I'll believe in it, me I'm just a lucky guy, I'm young and free too dumb to cry." [Iggy Pop]


In 'Ice Haven' (Pantheon / Random House ; June 7, 2005 ; $18.95), Daniel Clowes tells not one but several stories and still manages to spend a fair amount of time addressing this very issue at length. Now, I'm no stranger to Clowes. Last year, I bought my college-age son 'Caricature', a collection of short stories by Clowes that both of us really liked. Yes, it did end up as bathroom reading, but you know -- that's something else that Clowes addresses in 'Ice Haven' as well.

'Ice Haven' is on the ambitious side of the equation. Drawing from Thornton Wilder's 'Our Town', 'Ice Haven' is based upon and inspired by the story of Leopold and Loeb, and the 1920's abduction of Bobby Franks. One of the main characters in this story is Harry Naybors, Comic Book Critic. In his first appearance here, he tells readers that, "There exists for some an uncomfortable impurity in the combination of two forms of picture-writing (I. E. pictographic cartoon symbols vs. the letter shapes that form 'words') while to others it's not that big a deal."

I guess I fall into the first group, but I'd like to move over to the second. I've got to say it takes an effort, an effort that years of reading words-only stuff makes more difficult. On the other hand, Clowes makes it pretty easy to assimilate his narraglyphic picto-assemblages. He does this on two fronts.

First and foremost -- to this reader -- is the gorgeous simplicity of his books. 'Ice Haven is wonderfully designed. It's easy to look at. In fact, it invites you to look at it. Clowes' narratives unfold in simple boxes and straight lines with enough variety to keep you from getting apprehensive and enough consistency to keep you involved. The colors are never less than perfect. His illustration inclinations are perfectly wedded with his design philosophy. The upshot is, you want to read this.

Clowes uses all this color and illustration in much the same way that any prose writer uses prose. All that simplicity and clarity allows him to bring the reader closer to the emotional core of the story, and he has plenty of emotional cores here. In fact, the only concern might be that there are too many emotions too effectively conveyed. You might think that a strip like 'Random Wilder in Toilet Time' is going to be sort-of a throwaway, but you'd be dead wrong. It's a pretty devastating look at Clowes' own audience, but it extends to readers in general quite handily -- and powerfully.

Chip Kidd, author of 'The Cheese Monkeys', and the editor for Pantheon Graphic Novels, tells us that, "Only the minimalist of expense has been spared to place into your sausage-fingered hands what many consider to be entirely above average and mostly worthwhile endeavors into the art of 'image-driven narrative.'"

Poppycock. This is a gorgeously done book, no expense spared and dirt cheap at $18.95. Clowes is touring in June and I'd suggest that readers make an effort to see him and to pick up this novel if you have any interest in the form -- and especially if you don't. 'Ice Haven' may just unfreeze your heart.

05-24-05: Who Will Tell the Story?
A Conversation With Chuck Palahniuk

Chuck Palaniuk photo by Shawn Grant. Portland, eh? Check out the trees!
While I ultimately did decide to run a picture of Chuck Palahniuk with this article, it almost seems redundant. Trust me when I say this: You'll see more than may wish to in your own mind when you listen to this interview with the talented writer of 'Survivor', 'Choke', 'Lullaby', 'Fugitives and Refugees' and 'Diary'.

Palahniuk's latest novel is 'Haunted', reviewed here, and it's an unabashed fix-up. In fact, he told me during the interview, that, well -- I'll let you find out by listening. Palahniuk is fine form this time around and he's a great speaker. We talked about the reaction that his story 'Guts' was getting when he was reading it for his tour. In fact, 'Guts' has just been nominated for a Stoker, and Palahniuk was tickled as well as nervous. Before the interview, he asked me what it would be like going to a horror convention. I was pretty shocked that amongst the many things that Palahniuk has done -- from drinking beer out of snail traps to attending twelve step meetings for avarices he did not share -- that he had not attended a genre fiction convention.

Now this interview was supposed to run on KUSP, and in fact it just has. But what you'll hear is certainly not what ran on the radio. While I was talking to Palahniuk, I made an executive decision to solicit material that may not be suitable for the airwaves because in general it's pretty easy to edit out. Moreover, what he was telling me was so funny and raunchy, and that I'd already crossed the line. I knew that my readers would want to hear it.

Unless, of course, you don't want to hear it.

I've already uploaded MP3 and RealAudio files of this interview, but please dont listen if you are easily offended. I guarantee that you WILL BE offended. And if you aren't offended, I guarantee that you'll be amused. Moreover, this interview allows Chuck to get to the heart of something that really interests him, a theme that crops up in a number of his novels, including his latest, 'Haunted'. Palahniuk is fascinated with the process of narration, both in literature and in culture, and the relationship between the two. You see, it's his contention -- and I would agree -- that whoever the final narrator of our times, our culture, may prove to be, that person or entity wields a power that is central but hidden. It is the power to define our times and our culture, the power to define our lives. This interview will help listeners get to the camera behind the camera. It may make you angry, it may make you pass out, but this time around, Palahniuk tells the story. He's the camera behind the camera.

New readers might want to visit the home page, to see what else we've got here, including book reviews, columns of commentary, other news items from this year, and other audio interviews.


05-23-05: Fiona Avery 'The Crown Rose'
Just a Hint of the Fantastic, Please

Speaking of fantastic, check out this cover by the fantastically talented Caniglia
Not all fantasy fiction is elves and dwarves in never-never land. Indeed, most fantasy is at least partly based on a historical setting. Often, a writer creates his or her own world but bases it on a portion of our history. Sometimes they borrow from specific periods of history, and sometimes we just get a general ambience. In fact, this is one of the pleasures of fantasy, and a crossover point for many readers. The details that go into historical fiction, and often into fantasy fiction are a major draw for me. That's why Caleb Carr's 'The Alienist' was so compelling. Carr's recreation of turn-of-the-last-century New York offered the kind of world-building details we find in science fiction.

And thus, Fiona Avery's 'The Crown Rose' (Pyr / Prometheus Books ; May 3, 2004 ; $25.00) is a natural outgrowth of the rising popularity of both historical fiction and fantasy fiction. The real question is how will it be shelved? If it gets stores with historical fiction, it risks missing a fantasy audience. And if it is shelved with fantasy, it's not likely to fall under the eyes of those interested only in historical fiction. We're up against the inventory problem again, folks. Fortunately for my readers, you'll find here filed under "Books that look well worth buying."

So, for the historical fiction readers, here's the draw. The world is very much our world, the location is France, the year is 1240, and the King is Louis IX. It's the twilight of Knighthood, end-times for the actual historical medieval scenario that is fantasized about in so many books and movies. Isabelle of France is born heir to the throne, and her life is not particularly easy. Here we see it in gritty detail, informed by (we're told) over a year's worth of research. So far, what we have on our hands is a detailed novel of historical fiction.

But Avery, who has written extensively for the comics and the screen, adds one element to tip the balance ever-so-slightly into the world of the fantastic. Not surprisingly, there's a man in Isabelle's life. He appears at the key junctures, the times of need, becoming her icon, her destiny, a mystery that demands to be solved. This man, however, is not what he seems. His bloodline goes back to the Holy Land, and he may well be quite a bit older than he appears.

'The Crown Rose' is not one of those novels set in a "sort-of-like-history." Avery weaves in real events and works with the world as it is. With the exception of the old guy, of course. And with the recent interest in such matters sparked by That Book, this is indeed an inspired bit of the fantastic to weave in your narrative. Given that the publisher is Pyr and there is an element of the fantastic in it, chances are that it will be shelved with the fantasies and not with general fiction. Now, I must admit I rather like having my fiction segregated by genre. It does make it easier to look for certain titles. But I'd also like to see titles that fit into more than one genre, and there are plenty of those, shelved in more than one place. And I know it would help a lot of books sell better. That's why readers will note that when I classify titles by genre in my reviews, I'm very generous as to where I place things. A lot of titles that have elements of genre fiction get slotted into my "General Fiction" genre if I think that they'd appeal to readers of General Fiction. This title, for example, for example, would certainly get slotted into Fantasy and General Fiction. Depending on the level of detail I might even put it in the "Non-Fiction" genre; I did that with Mary Gentle's 'Ash', based on the level of detail and authenticity she brought to that novel. And that novel even developed elements of science fiction as well!

The idea is to help people find books that they might not otherwise find. Bookstores seem more interested in making inventory easy than selling books when it come to this. While I do understand why they do what they do, it's my contention that if they can't make the effort -- I can!

Still, we can hope that at more enlightened bookstores 'The Crown Rose' will get piled right up there next to the regular fiction. And readers of this column will know to look for it in both places, or better yet, via one of our favorite mail-order vendors. In some never-never fantasyland, there are bookstores where science fiction, fantasy and historical fiction titles are cross-shelved. And in that never-never fantasyland books sales are increasing.