Daggers, Stars and De-Bowdlerization

Sure, I'll consider it. Can I get it with steak? Does it come with a side of rice pilaf and a house salad?
So, yes, you see this author's name and you think: Infinite Jest. Infinitely long. Or at least one step from it. And perhaps you think: "Shoot me if I buy a 1,088 page super-duper-literary science fiction novel. With over 400 footnotes." And that's that.

Or you think, "Oh man, I loved that book." After all, weren't we just talking last week about Frederic Jameson's 'Archaeologies of the Future'? Now you know, you KNOW that Jameson's GOT TO mention Wallace's magnum opus. And it does get two sentences in the final section of the book, titled "Fear and Loathing in Globalization", which I shall reproduce here for your reading pleasure:

"This new geopolitical material marks a significant historical difference between such commercial adventure stories and the equally cynical gonzo journalism of an older period (indeed the affinities and distinctions between the cultural products of the 1960s and 1970s and those of the 1990s and 2000s would be well worth exploring further). Equally significant is that these protagonists -- busy as they are locating rare products, securing secret new inventions, outsmarting rivals and trading with the natives -- do not particularly need the stimulus of drugs (still a preponderant, one may even say metaphysical presence in so recent a world-historical expression as David Foster Wallace's Infinite Jest, of 1996.)"

And in another example of why I liked that book so much, this paragraph is embedded in an essay on William Gibson's 'Pattern Recognition'. Just so you have some context.

And an idea why David Foster Wallace is a natural subject of this most difficult column.

And finally, as to why you might want to consider 'Consider the Lobster' (Little, Brown / Time Warner Book Group ; December 13, 2005 ; $25.95) for purchase. Yes, I know you're thinking about 'Lobsters' by Charles Stross, the launch point for his 'Accelerando' sequence, and wondering, thinking, hoping that Wallace is going to discuss the viability of using lobster brains to drive things in space.

No such luck, alas. What Wallace is up to in these essays, however, is no less entertaining. And in fact, Wallace has more than a bit to share with Jameson, in that, unless you saw an author photo, you might imagine both as looking like something out of a science fiction movie; huge-brained, with exposed lobes throbbing in a florescent-green liquid bath.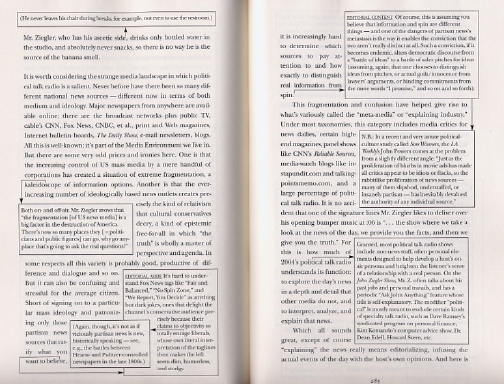 Take your brain out for a walk. With helpful flow-chart arrows in case you can't follow the logic.


The author photo on the dust jacket of 'Consider the Lobster' subverts that ideation†. († See what happens when you read Foster? You use words like "ideation." It's an occupational hazard of the job that I do so you dont have to.) Nope, Foster looks more like a rock star. But he writes like, like...a really, really smart and interesting guy with a wicked-dark sense of humor.

Who loves footnotes.

So first and foremost, if footnotes give you hives, then you might want to give this book a pass. But if you're reading this column, and you've made it this far, then I'm guessing that footnotes dont give you hives. In fact, the presence of footnotes is probably a plus for readers of this column. We've rhapsodized about footnotes in fiction, and even published a short story by Susanna Clarke from 'Jonathan Strange and Mr Norrell' that was a footnote in the novel. The bottom line: we're totally on-board with Wallace's new collection of essays.

But before we get to specifics on the subjects, let's talk bowdlerizing. According to my in-program dictionary (neither complete nor reliable, like the software itself) "bowdlerize" means: "To remove parts of a work of literature that are considered indecent." As I am wont to do when confronted with an obvious collection of previously published pieces, I made a point of checking the colophon page. (What is it about Wallace that brings out your inner thesaurus, huh?) Above the previous publication credits, readers will have their first encounter with the author's voice. It's encouraging. "The following pieces were originally published in edited, heavily edited, or (in at least one instance) bowdlerized form in the following books and periodicals."

Okey dokey, I'm hooked! But wait -- we havent even hit page one yet, -- and there's more! Wallace offers up a note bene (N. B.), again (hitting the dictionary with Wallace's work is probably required) "used to draw someone's attention to something particularly important, usually an addition to or qualification of a previous statement."

Now we come to the stars and daggers. Stars (asterisks, he calls them, big word fella that he is), are used to mark pieces written for "a particular organ" [one wants to think its the brain, but actually he's referring to the magazine] where the name of the magazine keeps popping up in the article in a way that "can't be changed without screwing up the whole piece." This is a very nice way of saying, "Please dont get annoyed by the screamingly obvious fact that this is a collection of previously published pieces."

Not me! Not annoyed at all, Mr. Wallace. Carry on, and do explain the daggers.

"A single case in which the essay was written to be delivered as a speech, plus another one where the entire article was written bipseudonymously and now for odd and hard-to-explain reasons doesn't quite work if the "we" and "your correspondents" thing gets singularized, are further tagged with what I think are called daggers."

"What I think"? Oh come on, you so KNOW they are called daggers. Dont get all "bipseudonymous" on me and then say you dont know what one of these: † (Time character 160, Unicode 8224) is called. Don't make me get my thesaurus out, Wallace!

What I think is that only two of the ten essays are unmarked. That must mean something.

Now, you could approach Wallace's work as if it were some sort of academic Holy Grail. You'd get out the dictionary, sit down at your computer with Google to hand, then open up the book and read it carefully, respectfully. You'd take notes, and make sure you parsed every goddamned sentence. Youd read and -reread. You might write an essay or two, perhaps bathe the pulsing lobes of your brain in a glowing green salve.

I suggest you eschew this approach. Leave it to people even more professional than I. And as I'm not getting a paid a single sovereign (oh my brain is expanding, MAKE IT STOP) for this article, I'd probably not be considered particularly professional.


A detail from the above scan of the pages of the essay "Host."
No, I'd suggest you realize that a man who writes an essay -- a very short essay to be sure, but an essay nonetheless -- titled "Some Remarks on Kafka's Funniness from Which Probably Not Enough Has Been Removed" -- is a man who can be trusted. This is a five-pager with three large footnotes, two of which have their own footnotes. Now what I'm saying here is that even Wallace's footnotes have footnotes. And when you get down to that level, here's what he has to say: "*(Do you think it's a coincidence that college is when many Americans do their most serious fucking and falling-down drinking and generally ecstatic Dionysian-type reveling? It's not. College students are adolescents, and theyre terrified, and theyre dealing with their terror in a distinctly US way. Those naked boys hanging upside-down out of their frat-house windows on Friday night are simply trying to buy a few hours' escape from the grim adult stuff that any decent school has forced them to think about all week.)"

And if any writer can make me want to get drunk and hang out of a frat house window with a footnote to a footnote after reading about how Kafka is funny, that writer is MY KIND OF WRITER. I mean, really. And I'm wondering if Harper's, where this piece was originally published, bowdlerized the word "fuck" right the fuck out of that footnote. There'll be no such bowdlerizing going on here, I can assure you!

OK, on to some specifics. There's an essay called "Big Red Son" (*†) about the adult video awards, and it is in no way a coincidence that E-Bay is this day advertising an ENTIRE PORN COMPANY for sale for the ridiculously low price of $100,000. (Warning, link may exxpire, check it out NOW!) Come on, David, you can fess up. There's a piece of writing called "Host" (*at least a tiny bit) [even his asterisks have footnotes!] that involves some of the most complex typography I've seen since I last opened 'House of Leaves'. I mean, what, the guy writes this stuff in Quark? It's about a visit to a right-wing talk-show host in LA. John Ziegler on KFI, in case you were wondering. I think that's the case, unless I followed an arrow in the wrong direction.

This is a book to read quickly, probably while you're on your way to "falling-down drunk.' This is a book to read in restaurants while you sip wine and madly cackle. This is a book to open up when someone you know is serving lobsters, because you'll find some entertaining "do they feel pain" speculations in the title essay. This is a book to buy because your brain has left the confines of your skull, and is even now being bathed in a florescent green liquid.