A 2006 Conversation With Vernor Vinge on The Technological Singularity

Weathered and battered and stuffed with stickies.
So, yes, it was eons ago that I started working on the Singularity Report for NPR. The final, broadcast version is now available from the NPR archive. You can find it here. Please go to this URL and email it to as many people as you can; NPR will definitely take note of the interest and be more willing to commission reporting on SF&F titles. My editors at NPR, I must say, did a fantastic job putting the final audio version together. Thanks to all of them for their tireless, wonderful work.

This project really began when I first got, then read Vernor Vinge's new novel 'Rainbows End', an outstanding novel and easily one of the best I've read this year. I pitched the idea of a report on the concept for NPR, and then gave the novel the kind of reading that involves more than a pad of stickies' worth of notes. While I generally prefer to interview writers in person, in this case, I did so via an ISDN link from KAZU in Monterey. KAZU is a wonderful station, just a hop from the Monterey Bay Aquarium. It's a lovely drive from my house to the station, tooling around the edge of the Monterey Bay. Any visit there immediately lifts my mood, because it reminds me how gorgeous this little planet is.

The upshot is that my interview with Vinge went on for nearly two hours, until the news had to run. We had a great conversation, with, of course, the help of the fine folks on both sides of the connection. Vinge went to the equally well-located KPBS in San Diego, not far from where much of the action in 'Rainbow's End' unfolds.

Vinge is a brilliant thinker and writer. In this segment of the interview, we talk exclusively about the Technological Singularity, from the core concept to a variety of fascinating ramifications. What I really like about Vinge and his work is that he is an expert at holding contradictory opinions; that is, his work, his fiction, his visions of the future are never monolithic or single-minded. He encompasses the complexity of human responses and relations in his work, and interweaves the good and the bad until it is rather difficult to tell them apart. In other words, he gets reality right.

Readers can listen to this Eric-the-half-of-the-interview in either MP3 or RealAudio format. When I do these sorts of interviews, which I know will be for a reporting project, one of the great joys is to hear the author speak words that I know will fit perfectly into a report. What's so great about Vinge is that he provides fodder for hours of reporting. And I must say it is nice to see all this work come to some fruition–assuming we haven't been upstaged by the Apocalypse!



A Farewell to the Marketplace of Dreams

I can say that I have a pretty authoritative collection of Jonathan Lethem's stuff. See?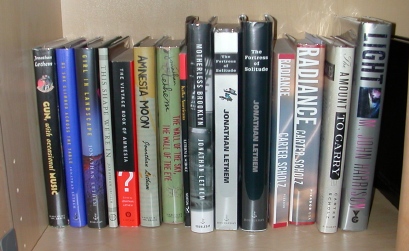 Carter Scholz collaborated with Lethem in the stories in that super-thin book in the center.



Yes, I know; my 'Men and Cartoons' and 'The Disappointment Artist' copies are absent without leave. They've gone on vacation somewhere in the stacks. Hope they're having a nice time. I looked for them but after twenty minutes the reward-versus-return ratio declined into the negative and I had to get crackin' on this article. ('Men and Cartoons' showed up when I was looking for my copy of the Damon Knight Charles Fort biography.)

One of the joys of writing these articles is poking through the stacks to find stuff I enjoy enough to actually write about. One of the dangers is that I can get lost, going, "Ooooh," and "Ahhh," picking up books from years past, sitting down, and getting lost in pages while lost in the stacks. Ah, the joyful hazards of this low-paying occupation.

I almost tried to fetch my actually visible second copy of 'Amnesia Moon', which I bought for a song used at Logos Books, but it was behind the cut-in-half exploding lamb child's swing set. I could see it, but was hesitant to balance on the Astroturf or put my rather adult weight on the child's swing seat. So, no extraction.


This kind of art creeps me out a lot. Skeeery!
But, you get the idea. In a collect 'em all, compulsion-driven world, I've collected and compulsed into a nice neat row on my bookshelf. And yet, for all I know about Lethem, I didn't know about the two stories that you'll find in 'How We Got Insipid' (Subterranean Press ; July 3, 2006 ; $35 Deluxe Signed Hardcover). Well, problem solved. Two stories and one gorgeous book later, I'm caught up, up to snuff, ready-to-go, and best yet, immersed in the very odd literature that only Jonathan Lethem can manage to write.

So, to the stories. Or the story of the book. Or both. What you have here is a tiny, 105-page book containing two previously uncollected stories by Jonathan Lethem. With an interesting caveat...That the publisher cannot send out ARCs to PW, BL, LJ and Kirkus, but only to the likes, of well–me. And others, I hasten to add. This is just how lucky we are...

The dust jacket and interior illustrations by Blake Lethem are lovely, child-like and sinister. The book design is equally nice; largish print for my failing eyes (no reading glasses yet, thankyouverymuch, but I do have to remove my regular glasses to read, or read underneath them). Suffice it to say that when you shell out $35 for this book you're going to feel well recompensed. It's lovely and a perfect companion to your McSweeney's edition of 'This Shape We're In', in all senses.

By that I mean, the book is not only like the McSweeney's deal in terms of size and format, though that is most certainly true. As Lethem tells you in the chatty, entertaining, appearing-here-for-the first-and-presumably-only-time Afterword, both of the stories found here share a sort of zeitgeist with 'This Shape We're In'. He considers them to be what I might call a tweener, something that is either a long short story or a short novella. I guess that the SFWA might want to call them novelettes, but you know, let's just call them very strange.

Subterranean Press is taking a wonderful tilt towards the literary, in case you hadn't noticed. John Crowley, Jonathan Lethem–I'm really curious to see where this goes, where it ends. Readers are fortunate enough to be able to witness a literary mutation taking place before their eyes. And this new Lethem collection is a wonderful part of the process.

'How We Got In Town and Out Again' is one of a series of swipes that Lethem took at the whole virtual reality Bay-Area-Techno-Wet-Dream of the early nineties. It's almost impossible to describe, because it does not read like anything else out there. Nominated for a World Fantasy Award, it's just...strange. Lethem immerses you in a no-questions-asked situation wherein Our Hero and Heroine join some hucksters trying to get into a town so they can get summat to eat. Said hucksters are huckstering a very down-market form of VR. Virtual–and non-virtual–shenanigans ensue.

This story is an utter, totally delight to read, with prose that is "as pure as the driven snow, as clear as the azure sky above" (cf A Clockwork Orange). This greatly aids one in the sort of, well, not to put too fine a point upon it, mindfucking quality of what's going on, the world that Lethem creates. It annihilates your expectations, whether they be literary (way too science-fictional, weird suits and such, what the heck?!?!?) or science fictional (way too normal, just these suits, what the heck?!?!?). I can't believe that this wasn't bounced by F&SF (where it first appeared), but then, that magazine regularly confounds expectations for the best and otherwise.

'The Insipid Profession of Jonathan Hornebom' is a Heinlein satire, that is a satire of Heinlein, not one by him. Of course, not content to lambaste the Grand Master, Lethem, tosses in healthy doses of Max Ernst, Alfred Hitchcock and Harriet the Spy. Like 'How We Got In Town and Out Again', this is another story that lives in the Twilight Zone of publishing length. But there's one other aspect of both stories that makes this volume especially interesting and to me, a must-buy. Lethem describes these stories as, "...not a farewell to the literature of the fantastic, but to the contemporary SF marketplace."

This explains to me why these stories are so enjoyable. They are just themselves, whole pieces of literary invention, single-minded head-trips into a very intelligent mind. The contemporary SF marketplace is a very weird place, sort of fetishistic, caught up in a freedom that it often seems to regard with fear and loathing. This doesn't mean that there isn't a good deal of excellent literature to be found there. But it does mean that there are forms of weird literature that won't be found there. Lethem is an excellent example of this, even though he once was found there, and might easily place these stories there this day. I think he's onto something. Lethem is one-hundred percent blithe. Oblivious, even, and in the best possible manner. And he's not leaving the fantastic behind. He might have left this style behind, but you can find two fine examples in this sterling book. Worth your money and time, especially if you must have an authoritative collection of Jonathan Lethem's work. Or seek the oblivion of the oblivious.