Frederic Brown, Jeffrey Ford, Mark Z. Danielewski and Simon R. Green

I've got six years, so I'm told. Next year I'll be able to say I've got five years -- that's all I've got!
I'm not known for talking about the virtues of reprints. But that's not because they are without virtues. Reprints can be pretty damn exciting under the right circumstances, and in the fall of this calendar year, the stars, as Lovecraft would say, are right. There are a plethora of very exciting reprints coming out, worthy of your money and attention. They hail from every point in the literary spectrum, from high-falutin' litrary masterpieces to down-and-dirty mass-market paperbacks crammed into a bigger, better, faster format. These are heady times indeed for the reprint, and chances are you'll be find these every bit as interesting as the original versions.

Let's start with the big news; news you might have been waiting for for what, five years? Six? So, six years ago, let's say, if you were to be suitably flush, you might have doled out an a not-inconsiderable amount of money for 'House of Leaves' by Mark Z. Danielewski. And it of course was most certainly worth it. For $40, you got over 700 pages and, you might well think, nearly as many fonts, and certainly more gorgeous and aggressive book design that you might expect. Literarily, you got a once-in-a-lifetime reading experience, an immersive, obsessive – I'll leave the adjectives behind and let you refresh your memory.

Back from Ash Tree Lane, are we? Good. Remember the colophon page? My take is that if you read 'House of Leaves', chances are you spent a good deal of time there. Noting the versions and editions. OK, get your book. Look at the options under "A Note on This Edition". Here's mine, from as true a first a first edition as could be had at the time: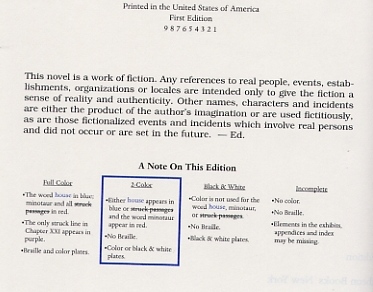 I suspect that this particular book might well have a fiscal value that nears it's artistic value. That is, astromomical.



So that was what you could get in the year 2000. No matter how much you shelled out back in the before-time, I don't think, at least, anybody had the full-color edition. Nobody had an edition whose colophon page looked like this: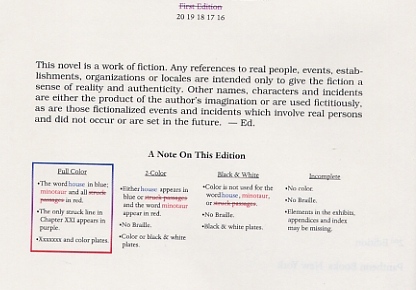 Sorry this isn't straight, but you're lucky I'm willing to even touch these babies. Well, no actually in this case, this is a "reading edition".


Welcome to 2006. After six years of apparently banner sales for an ultra-dense, totally obscure, genre-informed, multi-media meta-novel, we get, we finally get the reprint. 'House of Leaves: The Remastered Full Color Edition' (Pantheon / Random House ; August, 2006 ; $45) is, I think brand-new. Brand-new in the sense that it just came out this month, or maybe next month. As with all things Danielewski, there is a frustrating combination of no information and too much information about this particular edition of this particular book. I'll note that there are some differences in the colors of various portions of text, and some of the photos are now full color. Talk about delivering on a promise. Yes, we should have suspected this, because well, Danielewski delivered on the brave concept of the Eric-the-sort-of novel itself. So let's let the minutia pass for a moment, because I'll certainly be coming back to this book and this author. But on a scale of 1-10 for reprint importance, well, this is a VERY, VERY, VERY, VERY large prime number. One of those that a cryptography firm would shell out the big bucks for. Thus, reprint of worth number 1: 'House of Leaves: The Remastered Full-Color Edition'. Buy 'em while you can.


Someday, some enterprising small independent press publisher will issue versions of these illustrated by J. K. Potter. I can dream, can't I?
Now let's leap to what might apparently seem to be the other side of the spectrum. Let's say you just read 'House of Leaves'. You've got a shaky hold on reality, at best. Now lets hjop on down to the local independent bookstore and pick up 'A Walk on the Nightside' (Ace / Berkeley / Penguin Putnam ; September 5, 2006 ; $15.00) by Simon R. Green. I've already reviewed Green's delightful little John Taylor novels, 'Something from the Nightside', 'Agents of Light and Darkness' and 'Nighingale's Lament'. They're, as one in the UK might say, ace. Very cool little deals, Now you can three of 'em in one nice Trade Paperback. This is good, dirty, butt kicking fun. The kind of books that should be made into a good, loud, summer thriller movies. I hope this is a prelude to a richly-deserved hardcover first edition of his next Nightside novel. What's interesting in the reprint world is the not-too unusual combination of three books into one TPB. This is a frequent occurrence these days, and not a bad way to get a bigger version of books you like or a good intro to books you haven't read. Green's work is particularly apropos for this sort of reprint because the novels are pretty short. Even with three full novels crammed into one, this book doesn't top 400 pages. But they're good pages! If you haven't read Green's engaging series, here's a great place to start.


Fredric Brown skulks; Ford beyond.
Reprints need not be scaled-down or scaled up copies of recent works. There's a booming business in the reprinting of worthy older titles as well. Take for example 'Here Comes a Candle' (Millipede Press ; September 2006 ; $14 TPB / $40 HC) by Fredric Brown. This is a pretty unjustly obscure novel by a writer who deserves wider recognition. Brown worked in almost every genre, but he's best known for the iconic science fiction title 'Martians Go Home' (1955). 'Here Comes a Candle' is bizarre noir, the story of Joe Bailey, a young man who gets in with the rackets in a bad way. His life is tied to a snatch of nursery rhyme: "Here comes a candle to light you to bed /; Here comes a chopper to chop off your head."

Not a good sign, that. But for readers who enjoy stylistically innovative and experimental pulp fiction, this title is a cracker. You get a novel with passages written in a variety of styles, from sportscast to stage play, with everything in between. It's very odd, very edgy and all that brilliance is cut with the just right amount of cheese to keep things slick and moving. Millipede Press includes an introduction by Bill Pronzini, an extra short story by Brown, ("The Joke") and an essay by Brown, "It's Only Everything". This is a very nicely done book, and the hardcover promises to include a sewn binding. Old-fashioned literature sold with old fashioned craftsmanship; it's always new and always nice to see.

And finally in my list, are books still a' bornin', but books well worth watching out for that did in fact launch this little tirade. Those would be the forthcoming trade paperback editions of Jeffrey Ford's award-winning and award-deserving 'Well-Built City' series; 'The Physiognomy', 'Memoranda' and 'The Beyond', all from Golden Gryphon as trade paperbacks. These books, initially available in a series of disparate editions are surely modern fantasy classics. They were pretty well-served upon their first release, but they were never available in a standardized format. The deal is that they started out as trade paperbacks but as Ford's talent was rewarded with awards and accolades, the final volume of the trilogy actually made a firsts edition hardcover. Now we can look forward to a sleek set from Golden Gryphon. As I see them, so will you. And, of course, you'll already have twigged to the fact that reprints, far from being boring, are a place to look for excitement and innovation. So long as you like pretty weird fiction!