Delivering Precision

I want me a pet like that little critter there.
You don't have to do something that is the end-all and be-all to do something worthwhile. That's proved time and time again in the world of genre fiction where a decent little monster book might in the fullness of time, turn out to be Mary Shelley's 'Frankenstein'. The folks over at Walker Books have most assuredly learned this lesson, having taken up the Wooden Books imprint and decided to run with it. All the way to the bank, it appears as they crank out three new titles to appear in tidy little racks on bookshop counters just in time for the post-Thanksgiving book-buying present crush. But hell, you could do a lot worse than to buy someone 'Symmetry' (Wooden Books / Walker & Co. ; November 1, 2006 ; $10.00) by David Wade, 'The Golden Section' (Wooden Books / Walker & Co. ; November 1, 2006 ; $10.00) by Scott Olsen, and / or 'The Alchemist's Kitchen' (Wooden Books / Walker & Co. ; November 1, 2006 ; $10.00) by Guy Ogilvy. In fact, the problem with these books is that at that price point, you might be all too tempted to pick up a set for yourself as well as your lucky recipient. And if you don't pick up a set for yourself, better have a Plan B in place. These damn Wooden Books are pretty sweet, and hard to let go of once you get them in your hot little hands.

In spite of a title like 'Symmetry' or even 'The Golden Section', these books are neither for nor by Rocket Scientists; this is not to say that your average Rocket Scientist wouldn't enjoy them, but rather that the books take rather abstruse subjects and deal with them in a way that anyone could enjoy. A brief bit of excellent prose. A mind-bogglingly gorgeous presentation. A "Damn, I wish I had the poster" illustration. It's a formula all right, but not a bad formula. In fact, I'd say that this is fairly foolproof so long as Walker & Co. keep the quality high, which in these three titles, they certainly manage. So...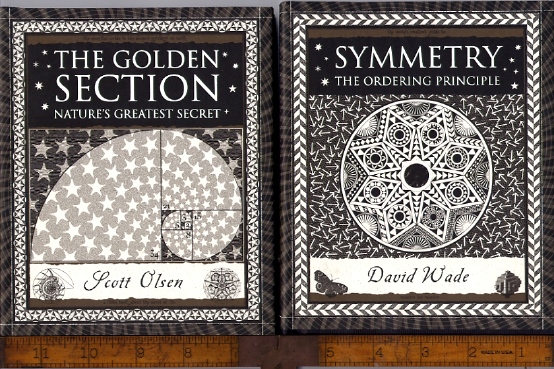 Talk about symmetry, or rather asymmetry. Note inclusion of old-timey ruler to give that sort of cool, old-timey-mathematical look. See, I don;t just read 'em, I learnm from 'em.


'Symmetry' is certainly a fixation of mine, being that I' sort of a clean freak. At least that's what the kids say. That said, Wade offers a pretty decent and mathematical look at the reasons you must make the bed every morning and pull up the sheets just so. You see, if you don't, the world ends. That's all there is to it. David Wade gives a perfect example of why these books are so utterly cool and compelling in 'Symmetry'. It's the level of detail supplied. On one hand, these are books where you can pick them up and read a single, small page faced with an illustration to die for. On the other hand, Wade does supply enough hard-math detail to make the book seem pithy as opposed to frothy. I can't imagine anyone who would not like to receive this book, unless they were remarkably asymmetrical.

'The Golden Section' by Scott Olsen is a bit more obscure, at least if you're not a fan of ex-Ultravox vocalist John Foxx, who once released an album (which I own) of that same title. Here again, in precisely 58 pages, Olsen will supply to you a picture perfect (and just a little bit precious) definition of a mathematical and historical curiosity. He'll also toss in just as many pages of gorgeous illustrations as he does prose, even if some of the illustrations are prose, or at least, text rendered as a pitcher. I'd target this little book towards the artist in the family, or the decorator, since the whole concept of the Golden Section is sort of the Greek take on feng-shui.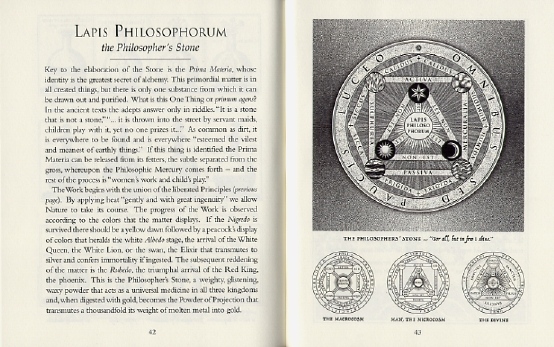 For the spoiled fan of a certain fantasy series, a little non-fiction to keep the brain working.

And finally there's my favorite, and one for all the SF&F, fantasy, horror and weird fiction fans, 'The Alchemist's Kitchen' by Guy Ogilvy. This book has more appendices than the others, and those appendices may require that in addition to the book the giver cough up a magnifying glass to aid in reading some of the finer print. That said, the fine print is work reading and the illustration are totally squint-worthy. Moreover there are most certainly the seeds for a few nice short stories here, scattered like jewels amidst the arcana that Ogilvy unearths.

All told, Walker & Co and Wooden Books are keeping up the quality as well as the quantity, and believe me both are important. Variety is important in this line of publishing and Wooden Books manages to find a pretty fascinating variety within a peculiar but well-defined oeuvre. At ten bucks a pop, these books are pretty sweet. Look at it this way. Say, five years from now what are you going to be more likely to be page through – a weathered and beat-to-shit paperback copy of some turgid thriller bestseller or one of these totally cute little hardcover illustrated books? I think you're going to be least embarrassed to page through one of these Wooden Books. Now you won't find these shelved in the bookstore. They're going to be on a little stand up by the cash register, waiting for you to drop thirty bucks on an impulse gift buy. Take my advice, should you decide to buy them as gifts, buy two copies, one for the lucky recipient and one that you can tell yourself is for some other person but is really going to be for you. Otherwise, all those years down the line, you're likely to find that the main thought that might be running through the shattered remains of your tiny brain is, "Now, who was I going to give that damn book?"