---
---
Magic, Supernaturalism and Religion (The History of Magic)

Universal Library, Grosset and Dunlap

Pantheon Books, 1948/Universal Library

US Trade Paperback

ISBN: 0-517150-328

504 pages (indexed); $3.45

Publication Date: 1968

Date Reviewed: 05-02-1996

Reviewed by Rick Kleffel © 2002

REFERENCES

COLUMNS
'Magic, Supernaturalism and Religion' surveys the history of magic and its influence on Western history and civilization. While the average reader might not think that Western civilization has a much magic in it at all, Seligmann demonstrates otherwise, and illustrates the matter with over two hundred beautiful reproductions of portraits (ideal and otherwise), woodcuts and engravings. He starts early, in Mesopotamia, and carries the reader through the end of the nineteenth century, showing how magic and magical thinking stirred men to believe that their actions could have some influence on the world around them, and inspiring them to further action. What 'Magic, Supernaturalism and Religion' offers is nothing less than a concentrated and dense history of the weird extremes of Western human belief over the centuries.
While Selignmann's history is impressive, clearly written, informative and surprisingly non-judgemental, it's the illustrations that kick this book into a unique category. A surrealist artist of the 1940's, Selgiman has managed to unearth a series of haunting images, rendered in black and white, that will linger long after the histories themselves have dissipated.
As a reference, 'Magic, Supernaturalism and Religion' is excellent, providing passages on the Devil, possessions in nunneries, vampires, witchcraft, an excellent survey of alchemical beliefs, as well as sections on the Tarot, the Cabala and other staples of the occult. He speaks of the works of such famous mages of Cornelius Agrippa, Paracelsus and Albertus Magnus, and gives brief histories of the various Masonic Lodges. Horror writers often refer to a mythical book of the occult, containing pointers to the arcane not easily found in normal literature. In many ways, 'Magic, Supernaturalism and Religion' is that book. It covers a wide range of history and beliefs, yet remains focused and is often even quite entertaining. Seligmann's coverage of ancient and not-so ancient beliefs is very even handed. He does not have an agenda to foist off on the reader, trying to prove that the occult phenomena he covers does or does not exist. He examines the beliefs the people who originated supernatural theories and quotes liberally from various the books they wrote. magic is an important part of Western civilization, he concludes, because it gave people the feeling that their actions mattered. It still does, and they still do.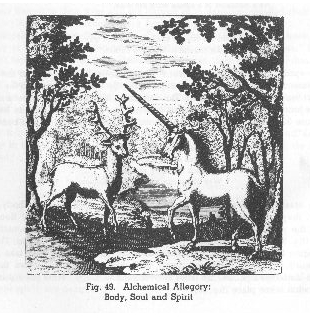 One of the many plates that make seeking a used copy of this work well worth the effort.
The edition I read and reviewed was a 1968 reprint titled 'Magic, Supernaturalism and Religion'. Currently by the same author there is a 368 page edition with rediced quality prints and a different title. The prints in the version I have are large and impressive. It may be worth the reader's time to find an older version if the print quality is important to you as a reader.