Making Loco Moco Donburi, Rick Kleffel-style



Getting everything ready to cook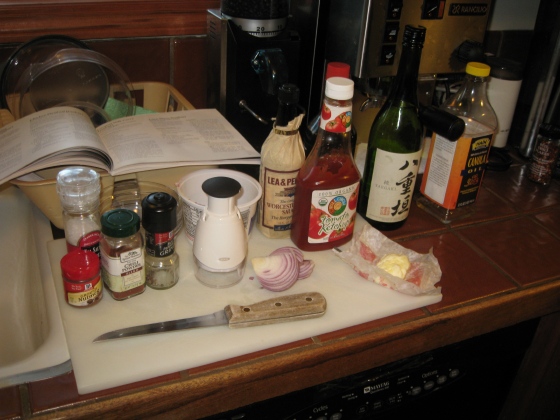 Getting ready to cook, 2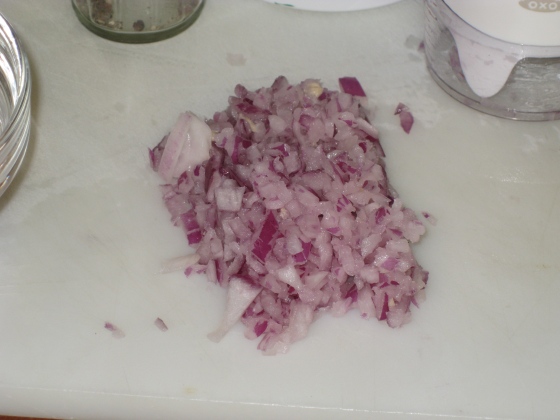 Chopped red onion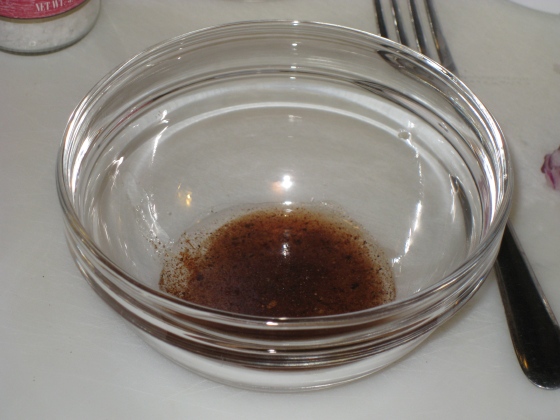 Mixture A (double recipe)
1 tbsp vegetable oil
pinch salt, dash each pepper and chili powder, plenty of nutmeg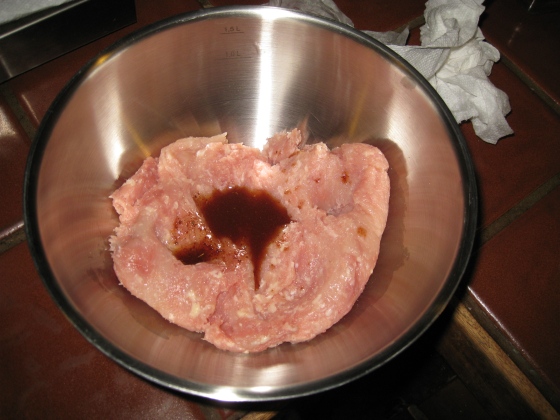 Thoroughly mix ground chicken and Mixture A in bowl....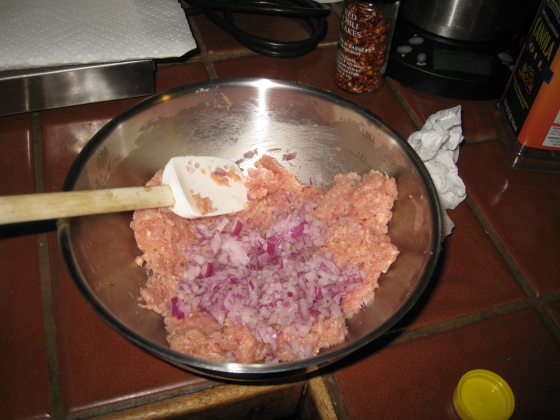 Add onion and mix again, I used red onion ...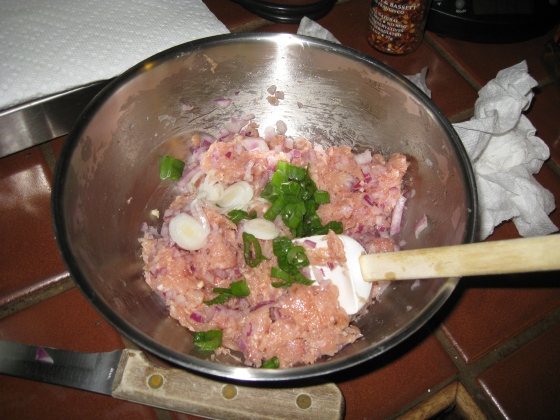 And chopped green onion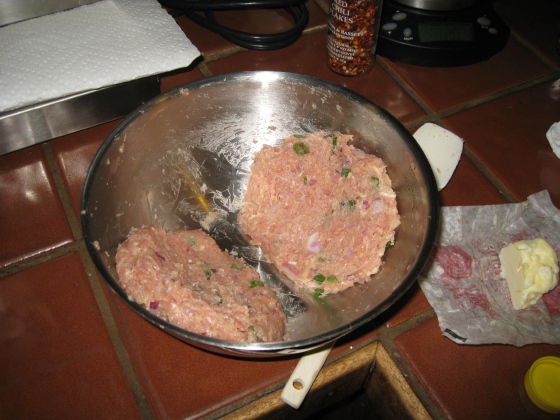 Divide into two large ovals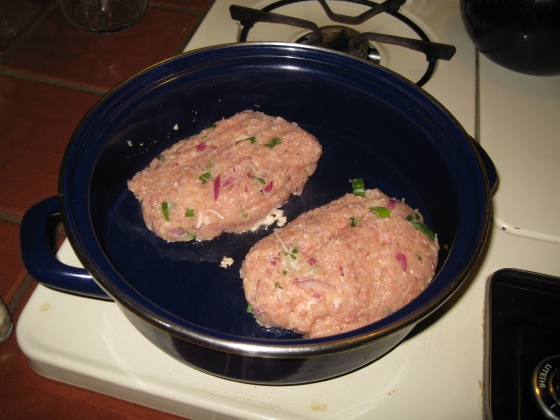 Add 1 tbsp oil to heated pan and cook until browned ....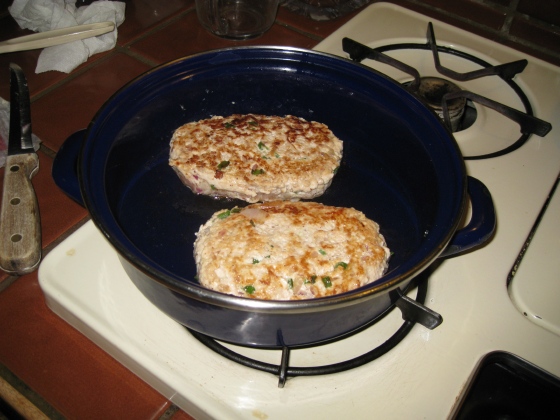 Brown other side .....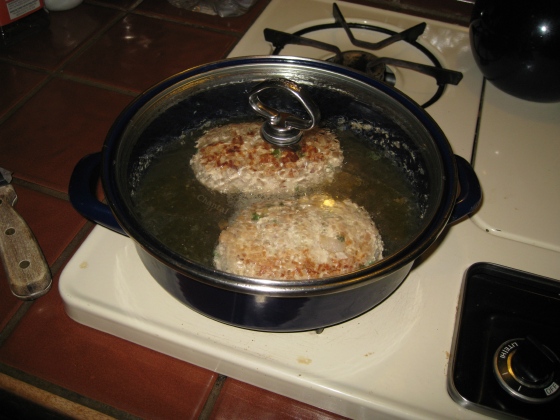 Add water till burgers are half-covered.
Cover and steam on medium heat until
when poked with a skewer, juice comes out clear.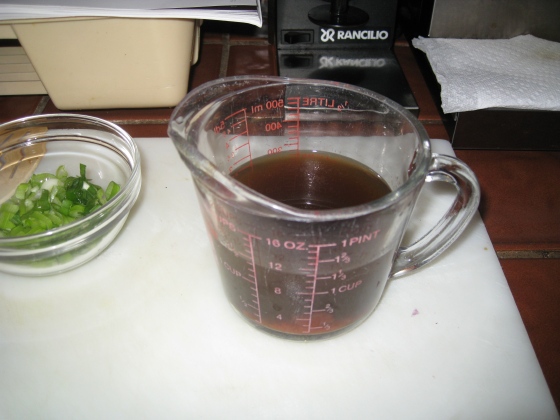 Double recipe mixture b
1 cup water, 3 tbsp ketchup
2 tbsp each Worcestershire sauce, sake, butter
2 tsp soy sauce
(Maybe use less ketchup,
add miso paste)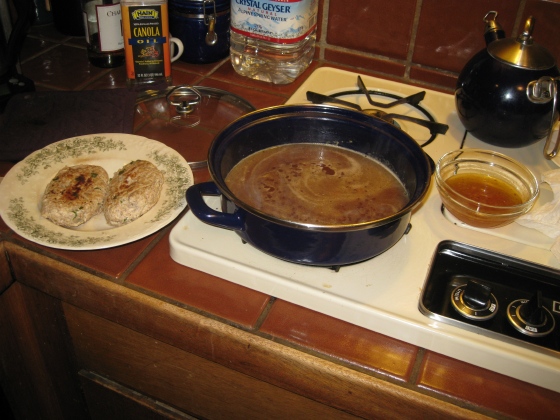 When water is gone / burgers are cooked,
remove burgers from pan and put in mixture b,
simmer until thickened ....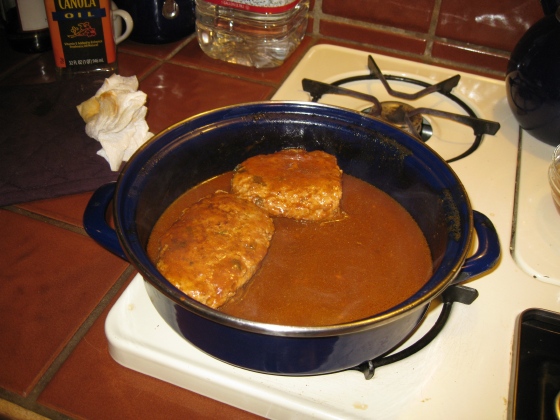 Then add burgers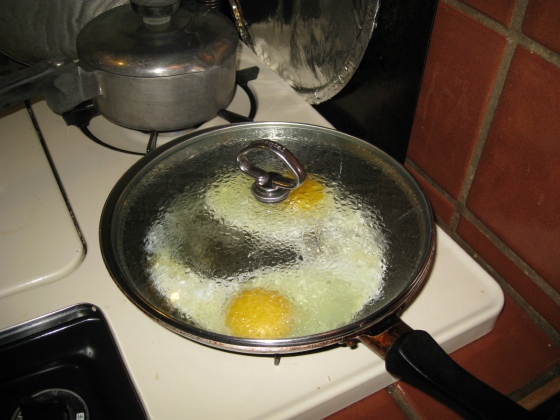 Baste your eggs ...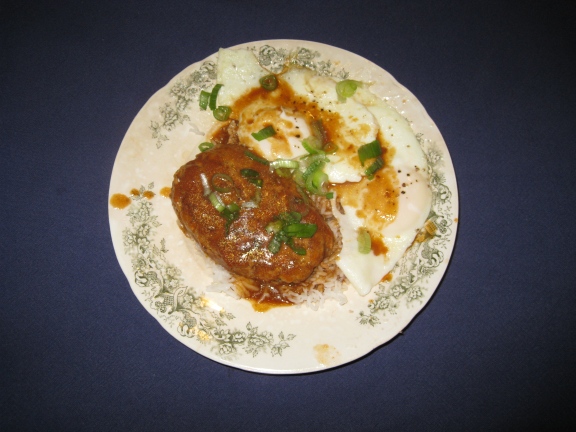 Serve on rice with sauce and sprinkle with green onions ...
Yummy!

New to the Agony Column

10-26-11: Commentary : Jana Marcus Documents 'Transfigurations' : Transsexual Journeys

Agony Column Podcast News Report : A 2011 Interview with Jana Marcus : "'Transfigurations' is a real opportunity to stare."

10-20-11: Commentary : My Life in the Bush of Books : Dr. Rick Wilber, Jonathan Lethem and Art Spiegelman Edition

10-25-11: Agony Column Podcast News Report : Podcast Update: Time to Read, Episode 15: Russell Banks : Lost Memory of Skin

10-24-11: Commentary : Five Degrees of Latitude : Literary Ripping Yarns

Agony Column Podcast News Report : A 2011 Interview with Michael Reynier : "I just started typing..."

10-20-11: Commentary : My Life in the Bush of Books : Dr. Rick Wilber, Jonathan Lethem and Art Spiegelman Edition

Agony Column Podcast News Report : Lisa Goldstein Reads at SF in SF : The Bondmaid's Tale

10-19-11: Commentary : Lisa Goldstein Visits 'The Uncertain Places' : Social Surrealism from Another Direction

Agony Column Podcast News Report : A 2011 Interview with Lisa Goldstein at SF in SF : "I couldn't put it down, I had to finish it."

10-18-11: Agony Column Podcast News Report UPDATE : Time to Read, Episode 14: Lisa Randall : Knocking on Heaven's Door

10-17-11: Commentary : Russell Banks' 'Lost Memory Of Skin' : Social Surrealism

Agony Column Podcast News Report : A 2011 Interview with Russell Banks : "They are in a sense, permanently marked and thrown into this darkness..."

10-14-11: Commentary : Jacqueline Novogratz Exports 'The Blue Sweater' : Mind the Gap

Agony Column Podcast News Report : A 2011 Phone Interview with Jacqueline Novogratz : "I'm sorry...I'm at the airport in Dubai, and it's pretty chaotic."

10-13-11: Commentary : The Business of Unreality : Novels Explore the Virtual World

Agony Column Podcast News Report : The Agony Column Live with Tad Williams and Deborah Beale : "Her style was different, our styles were very different."

10-12-11: Commentary : Mario Guslandi Reviews 'House of Fear' Edited by Jonathan Oliver : "Arguably the Best"

Agony Column Podcast News Report : Three Books With Alan Cheuse : 'IQ84' by Haruki Murakami, 'Assumption' by Percival Everett, 'Zone One' by Colson Whitehead

10-11-11: Agony Column Podcast News Report UPDATE : Podcast Update: Time to Read, Episode 13: Erin Morgenstern : The Night Circus

10-10-11: Commentary : Lisa Randall is 'Knocking on Heaven's Door' : Science, Particles and Civilization

Agony Column Podcast News Report : A 2011 Interview with Lisa Randall : "I gave it to religious people, I gave it to non-religious people and both were unhappy with what I wrote."

10-05-11: Commentary : Ruth Rendell Opens 'The Vault' : Wexford Follows Up

Agony Column Podcast News Report : A 2011 Interview with Ruth Rendell : "Oh, I could kill him."

10-04-11: Agony Column Podcast News Report UPDATE: Podcast Update: Time to Read, Episode 12: Neal Stephenson : REAMDE

10-03-11: Commentary : Erin Morgenstern Presents 'The Night Circus' : The Supernatural Stage

Agony Column Podcast News Report : A 2011 Interview with Erin Morgenstern : "I'm always kind of a fantastical writer."

09-29-11: Agony Column Podcast News Report : A 2011 Phone Interview with Russell Banks : "I don't find plotting all that hard once I have the characters in place."

09-28-11: Agony Column Podcast News Report : A 2011 Interview with Meg Wolitzer : "I really think you need to respect the antsyness of kids."

09-26-11: Agony Column Podcast News Report : A 2011 Interview with Neal Stephenson, Plus Live Reading and Q and A : "Here you're asking me to engage into more self-examination than is my wont..."

09-19-11: Agony Column Podcast News Report : A 2011 Interview with Lev Grossman : "I'm gonna write it ... and if Viking doesn't publish it, everyone can just come over to my house and look at it on my laptop."

09-12-11: Agony Column Podcast News Report : A 2011 Interview with George Pelecanos : "...maybe somebody's trying to tell me to write a book about this guy Spero."

Commentary & Podcast Archive