A Review of Jeff VanderMeer's 'Shriek: An Afterword'
What the hell do we do with this? Am I not already confused enough? I read four, what five versions of
'Shriek: An Afterword', and cobble together a review
, then think, well this is going to be an easy News article to write. Just toss up the 'Shriek' review, talk about the genres*, and then a mention of 'Secret Life' in TPB from Prime? Right? Right?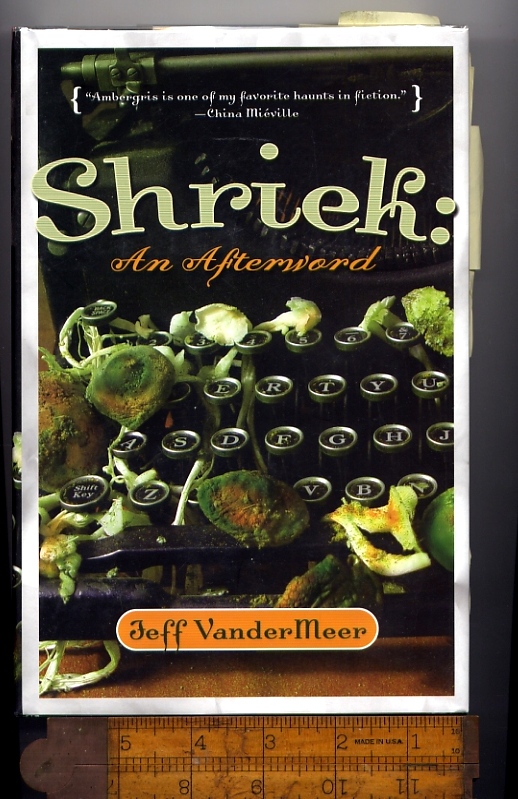 Note the yellow book-mushrooms growing out of this tome. It's dangerous, I tell you!
Christ on crutch was I ever mistaken. I mean I kick my own lazy ass through the 'Shriek' review, then pluck this 'Secret Life' from the shelf expecting, well, '
Secret Life
'. Book I read, now in TPB, good book, here it is, buy it up in TPB if you didn't in hardcover and give it to someone you love. Or someone you want to drive mad. Or, barring that, have that certain someone
listen to my interview with VanderMeer
.
But then, alas, I pull 'Secret Life: The Select Fire Remix' (Prime Books ; December 2006 ; $14.95) from the shelves and shitcan my early evening salutations. Because of goddamned course, nothing is ever easy with this VanderMeer fellow. Here all you want is an easy re-issue and he makes it hard. Instead of the usual same-as-it-ever-was, this is definitely not that. 'Secret Life: The Select Fire Remix' is precisely what it appears to be, as much as anything VanderMeer ever does could be precisely one thing, which is not much. It is indeed a text remix of the original work, with bits of the previous collection from Golden Gryphon, dropped out, new bits dropped in, artwork added...it is in fact an entirely new beast. Scarier. Friendlier. No less likely to bite you and leave a hole in your brain.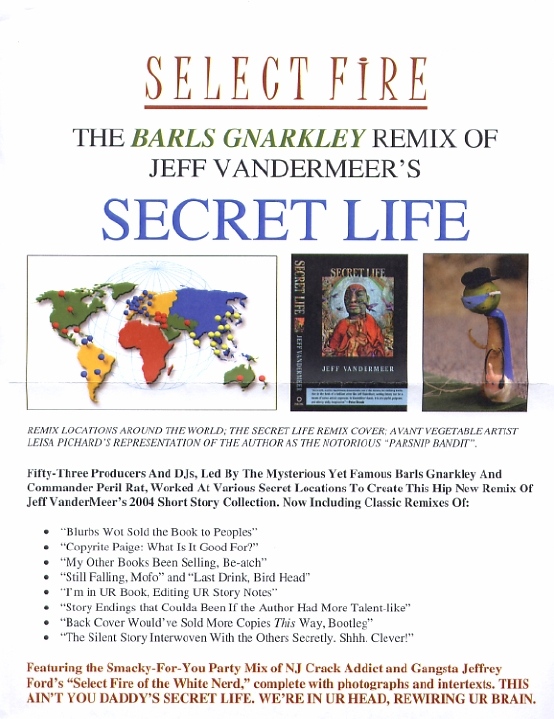 Promo sheet for this book so weird you don't even get right away that it is aa promo for this book. Not after being at work for fourteen hours you don't!
You want particulars, here they are. Graphics added, lots of 'em. Five stories dropped, though VanderMeer assures us that "they are still present, in a way." Okey-dokey! Zombie stories, it's cool with me. In the old world of Unix I used to inhabit so much of the time, we were used to zombie processes. Here are the literary equivalents.
We've all got a secret life. Hope it is this.
But what we really have here is something far more interesting. First and foremost, since I'm sort of usually broke, not to put too fine a point on it, this book is cheap. Only $14.95, i mean, come on! That's like some toss-it-in-the-trash fast food for two, only instead you get a kick-ass book. VanderMeer got a ticket to ride with this one. Basically, the guys at Prime must have said, "Whatever!" when he told them he was going to turn a short story collection into some really oddball meta-fictional mind-fuck. I'm sorry, it's late and my mind is not what it should be. All I know is that this VanderMeer is something of a madman, and he's gutted a great book and put it back together with Mr. Potato ears and nose, and put a funny sign on the back that says "Kick Me". No, it says...er...bride of Christ....coming-of-age story about two Montana clergymen on a fishing trip, wait what the hell? That doesn't sound right. This guy is nuts. He really did remix the thing. Well, at least there are illustrations and readers know I'm a sucker for that.
But 'Secret Life: The Select Fire Remix' rackin', frackin'-ly gets right on the must-buy list. It is outstandingly, humorously bent. And it's cheap. Forget the fast food, it'll give you the runs anyway. And should you ignore my sage culinary advice, should you go ahead and binge on the fast food, when you find yourself in the can, at least you can be glad that you've got his weird, oddball bizarre-o-rama to read. You can curse yourself for ignoring the culinary advice and thank yourself for following the reading advice. I do pretty good by the reading advice, and trust me the culinary advice is good as well. If you think not, stop by my house next time you're in NorCal and I'll cook up a tasty dinner. Jeff: I don't cook squid. Sorry.
(*Genre, schmenre. Everyone is always falling over themselves to say that "Genre doesn't matter to me, man, I'm above that shit. Not I! I am far, far beneath it. I love genre! Give me a pigeon and I'll find a pigeonhole! That 'Shriek: An Afterword' is not surprisingly, a kitchen sink affair. Struggling, struggling..well, Fantasy first, in the wide, inclusive sense, not in the GCFT sense. Then so close they could be doing something obscene, 'Shriek' is obviously general and highly faluting literary fiction. It looks down on hoity toity from an aethereal height. Next up, it is surely horror, because, well it's got mushroom people, and if you weren't scarred in your youth by watch Attack of the Mushroom People, then you deserve a 'Clockwork Orange'-style showing. And finally Science Fiction, because the mucky-mucks at Tor would beam me out into space on wide dispersal if I dared not call one of their books science fiction. So there. Hell's bells it's late! See yez!)