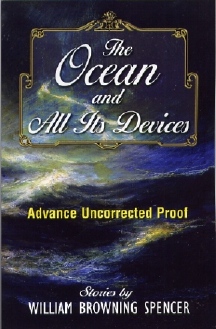 William Browning Spencer
The Ocean and All Its Devices
Reviewed by: Terry Weyna © 2006

Subterranean Press
USA Hardcover Signed Limited Edition
ISBN 1-59606-047-6
Publication Date: 07-2006
200 Pages; $40.00
Date Reviewed: 06-25-2006
Index: General Fiction Fantasy Horror Science Fiction

I'll buy any book with the byline "William Browning Spencer." When I read his amazing "Zod Wallop" in 1995, followed by the Lovecraftian "Resume With Monsters" in 1996 and the sly "Irrational Fears" in 1998, I developed an insatiable appetite for his work. Since then, he's been largely silent. So when "The Ocean and All Its Devices" popped up in an Amazon.com recommendation, I immediately purchased it (that "One Click" system can be dangerous for a book addict). To my great surprise and delight, not only did Amazon ship the book to me well before its official publication date, but the copy I received was a signed and numbered edition from Subterranean Press, complete with actual cloth covers, sturdy, thick endpapers, and strong acid-free paper. This book was made for posterity.

"The Ocean and All Its Devices" contains every piece of short fiction Spencer has written since his 1993 short fiction collection, "The Return of Count Electric." The slim volume contains nine stories, fully one-third of which have been reprinted in "year's best" anthologies, together with an introduction by the author. The stories are weird, quirky, odd, strange, other-worldly, bizarre — in other words, not like anything you've read from any other author. Spencer's world is painful and funny, somehow off, slightly twisted. There isn't a clunker in the bunch.

My favorite story is "The Essayist in the Wilderness," a piece of metafiction in which a clueless writer decides to try his hand at nature writing after an encounter with the sublime "Pilgrim at Tinker Creek" by Annie Dillard. The set-up is a dream come true: two academics win the lottery, and now have all the time in the world to write. They buy a house on 20 acres of land so far away from any city that commuters don't live there, a property with a pond, a meadow, woods and a creek. What a place for an amateur naturalist! — even one who has never been much for nature before. The narrator soon finds the species he wants to watch and report on, one with a few peculiarities that you will soon find you haven't read much about in any other nature essay. The denouement is a delight for nature lovers, nature readers, writers, and book addicts.

"The Ocean and All Its Devices" is a sad story of parenthood mixed with a Lovecraftian monster of the deep — not the type of Lovecraftian monster found in other Spencer stories, for there's nothing humorous about this one itself, and the horror it stirs in the reader is very much like the horror one finds in the Cthulu Mythos. Perhaps, though, this one isn't biological, but a machine constructed by those horrors? Or by the ocean itself? Like all the best horror stories, this one leaves most of the horror to be invented in one's own imagination.

I admire the skill that put together "Downloading Midnight" and "The Halfway House at the Heart of Darkness," though stories about living one's life in the Web don't much appeal to me these days. Still, these two are interesting takes on the subject, both twisting away from the usual. "The Halfway House" is especially fun for anyone who's read Spencer's "Irrational Fears" — Spencer's views on addiction and rehabilitation are most unusual. "Downloading Midnight" is the better story, though, as dark as any Andrew Vachss mystery and pretty much equally upsetting.

"The Oddskeeper's Daughter" is a delightful, romantic story about meeting the one you love. The odds are always against happily ever after, but many still do attain it, do find the one (the only one) to love. In a plot somewhat reminiscent of Orpheus's journey to the underworld, a man confronts the Oddskeeper in order to regain his wife and child when they are taken from him, and Order goes awry in his quest.

There are few butlers left in the world, and that doesn't seem especially odd after you read "Your Faithful Servant." This epistolary story is perhaps strangest in its postscript, a single sentence that gave me more of a shiver than anything that came before.

The most frightening thing in the book, however, is Spencer's own statement in his introduction: "Perhaps I will never write another short story." The horror induced in the reader at this prospect is profound. Fortunately, Spencer immediately notes another possibility: "Or maybe I'll suddenly see the short story as the only viable way to confront the world, and I'll write as many as the remaining years allow." Oh, I do hope so.