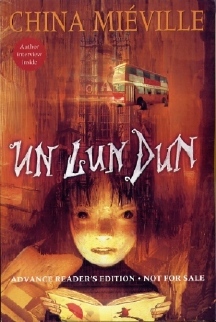 China Miéville
Un Lun Dun
Reviewed by: Rick Kleffel © 2007

Del Rey / Random House
US First Edition Hardcover
ISBN: 978-0-345-49516-7
434 Pages; $17.95
Publication Date: 02-13-2007
Date Reviewed: 03-03-07
Index: Fantasy Horror General Fiction

China Miéville's new novel 'Un Lun Dun' will find itself facing two very different and not necessarily welcoming audiences. On one hand, those who have read his previous, decidedly adult novels will be wondering if 'Un Lun Dun', billed as a "book for younger readers" could possibly include the elements that made novels like 'Perdido Street Station' and 'King Rat' instant classics. On the other hand, the audience of younger readers for which the book is clearly intended will find themselves faced with another fantasy novel in a veritable sea of fantasy novels. What will distinguish this novel from the others?

There is indeed a single element, a through-line in all of Miéville's work that runs just as strongly in 'Un Lun Dun'. Miéville loves his monsters. He loves his grotesque, bizarre, patchwork creatures and the ripping yarns he spins with them. Miéville's horrific sensibility is very much in evidence in 'Un Lun Dun' and he's not toned it down to make it more acceptable for the so-called younger readers. He has, however transformed it so that it's never inappropriate. 'Un Lun Dun' is, however, genuinely frightening, with no get-out clauses offered. Miéville's absurd creation is potentially quite deadly and not friendly to anyone other than the reader seeking to be whisked away to an immersive world filled with engaging characters and a gripping story.

'Un Lun Dun' begins in our world, as Deeba and Zanna start to notice a few things are awry. A fox approaches Zanna in the schoolyard and stares at her deliberately. Birds seem to salute her and clouds that bear a remarkable resemblance to her face float overhead. Miéville's monsterific talents come to the fore when he describes a common implement that begins to pursue them in a manner that makes it seem as creepy and threatening as an alien monster. Fleeing it, the girls seek refuge in a basement, where Zanna turns a lever on a steam pipe. When they exit, they find themselves in Un Lun Dun, the "abcity" made up fro the discards of London, the fantastic version of the city in our world. Soon they learn that Un Lun Dun is under attack. It's the start of a war that could have much wider consequences.

Miéville bases his novels in the characters, who are most happily beyond the usual kiddie-lit stereotypes. There are no evil school bullies to drive away Zanna and Deeba, no cliquish peer group to ostracize them, no excuse fort the fantasy. Zanna is the pretty blonde dreamer, seemingly a bit zoned, while Deeba is a doer and pusher, always headed in some direction. The two girls make a believable pair of fine guides through Miéville's abcity.

The fantastic characters they meet in Un Lun Dun are equally well-drawn, and often pretty creepy. Take for example Obaday Fing, a charming tailor who keeps his pins and needles in his head. Or the Unbrellissimo, the master of the broken umbrellas that flap through the skies. All of them are up against a much more terrifying monster, and not just the utterly horrific giraffes as imagined by Miéville. These are counterbalanced by more charming creations, such as Curdle, the empty milk carton. As an adult reader, I actually found this little guy to be one of my favorites.

The plot of 'Un Lun Dun' is fast-paced and exciting. Miéville has a lot of fun upending the traditions that he's playing with, providing surprises for readers of his previous novels as well as those who come from the world of juvenile fantasy. New monsters and plot twists come swiftly and the short chapters make reading more enjoyable for adults and well as providing a perfect bedtime-reading portion. This is certainly Miéville's fastest paced novel.

The setting of 'Un Lun Dun' is on par with Miéville's Bas-Lag. Miéville uses many of the motifs familiar to readers 'Perdido Street Station', combining the organic and the manufactured in combination that seem unlikely until they stumble across the pages. His concept of "moil" is particularly compelling. Moil is an acronym for "mildly obsolete in London", and in UnLondon, our trash seeps through to become the building blocks for a wildly visual form of literary recycling.

'Un Lun Dun' finds Miéville's usually dense prose clarified. This may be a problem for a very small segment of adult readers, but this reader found that the details accumulated regardless of the prose density. There's still the same rich environmental feeling to the work, the feel of the real unreal. But the shorter chapters and sleeker prose make proceedings move much faster.

The book is also peppered with Miéville's own effective illustrations, line drawings very reminiscent of those found in Walter Moers' 'The 13 1/2 Adventures of Captain Bluebear'. Miéville is an excellent illustrator and chooses his subject wisely, sticking mostly to monsters and creatures, never pinning down any of the main characters. He does use the illustrations as plot points as well, elegantly foreshadowing events and character developments.

The sticking point for most American readers is the book design, which is below sub-optimal. Even his adult audience will find the typeface small, and the cover art — which is not by Miéville — undercuts the appeal of the work. This reader would have ideally liked to have seen this novel published as say, ten slim, full-size, large print books, as a serial novel. Each section of the novel we hold would make a perfect large-format paperback if published with large print on bright, heavy paper. Sure, I'm the sort of fellow interested in extreme books. But if books are to survive the competition of video games, movies and television, the publishers will have to show the same sort of imagination employed by their authors.

The UK hardcover is quite superior, with a hundred more pages, a larger font and Miéville's art on the cover. None of this should stop the avid Miéville reader from getting the US version of the book, but as published it might find itself underselling to the very audience it seeks to court.

Will Miéville's existing fans like 'Un Lun Dun'? I certainly enjoyed it and I was a bit skeptical going in. Miéville's grotesque imagination is not constrained by the age of his audience, something that audience will surely appreciate. He treats his readers with respect and offers them a gripping story played out by intelligent characters in a vividly imagined netherworld. And it is indeed a netherworld, not a nether city; his characters mention that in addition to UnLondon, cities such as Parisn't and Sans Francisco populate the globe. It's a world that seems very much worth exploring.