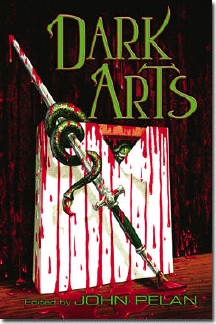 John Pelan, Editor
Dark Arts
Reviewed by: Mario Guslandi © 2007

Cemetery Dance
US First Edition Hardcover
ISBN 1-58767-124-7
293 Pages; $35.00
Publication Date: 03-15-2006
Date Reviewed: 02-05-2007
Index: Horror

Since 1990 the HWA, following an erratic publication schedule, has produced eight anthologies of rather uneven quality, all in all not too memorable. The ninth volume, 'Dark Arts', edited by John Pelan and beautifully produced by Cemetery Dance Publications, is now hitting the shelves.

The book includes twenty-two original stories by a group of distinguished HWA members from both sides of the ocean. Praise to the editor for bringing together an impressive line-up, and most of all, for assembling a bunch of fine stories, in spite of the pitfalls that theme anthologies may present. Mind you, as in any anthology, not everything is top-notch, but the majority of the tales are well above average and some are truly excellent.

The general subject is art in its different forms: painting, sculpture, photograph, music, movie making etc, but, in a few instances, also unusual personal qualities which somehow can be considered a peculiar form of art. This is the case with the opening story, Steve Rasnic Tem's "The disease artist" where a man pursues the "art" of recreating in himself the signs and symptoms of various diseases. Despite the original handling of the subject, Tem displays a less fluid narrative and a more cerebral approach than in his previous work and the story fails to involve the reader at an emotional level.

John Pelan himself contributes the compelling "For art's sake", wherein a smooth, captivating writing style effectively describes a bizarre artist's ultimate exhibition proving that the darkest horrors lie within our very soul.

Brian Hodge exhibits a masterful use of the language and a perceptive view of human condition in "With acknowledgements to Sun Tzu", in which the horrors of war are seen through the eyes (and the lenses) of a professional photographer. Less convincing contributions revolving around photograph are the ambitious "Scratching the surface" by Michael Kelly (a photographer manages to portray the ugly reality of people's faces hidden behind their skin) and Lorelei Shannon's "Kodakchrome", a tale tainted by an excess of symbolism.

Music is a theme addressed by a number of authors, such as Peadar O' Guilin who provides "Hurdy Gurdy", an offbeat piece of solid, excellent fiction in which the music from the instrument gives sustenance to an old man and his young grandchild in an unexpected manner. In "I hear you quietly singing", Lucy Taylor's expert narrative skill is nicely employed to tell how a singer, shot in the head by her ex-husband, becomes able to hear the music coming from the souls of people about to die. By contrast Patricia Macomber's "Chained melody", where the lingering, distressed souls of the dead are set free by a young piano player, never really takes off and falls short of inducing a lasting suspension of disbelief.

Painters seem to be extremely popular among horror writers. In "The art of madness" Edo Van Belkom, a gifted storyteller, depicts a talented painter whose work has a too-vivid adherence to reality The author portrays the paintings in such a graphic fashion to make them almost physically visible to the reader. "Works of art" by JF Gonzales is a very dark, unsettling tale where occult forces are at loose and a genial painter draws mysterious tattoos which expand even after the artist's death. Matt Cardin and Mark McLaughlin team to produce the sophisticated and thought-provoking "Nightmares, imported and domestic", in which a painter has black-and-white dreams of another self, living a different life. The boundaries between the two existences become increasingly thin, to the point of merging in a single, tragic reality. This remarkable piece of work, possibly the best in the book, brings in echoes of Kafka and Dostoyevsky, overcoming the limits of genre fiction.

If you prefer sculpture, here it comes in yet another of Paul Finch's compelling and quite entertaining stories, "The hoplite" where the figurine of an ancient Spartan warrior transforms the life of a petty criminal. On the other hand Gerard Houarner ("The shape of the empty heart") describes an unsuccessful sculptor seeking inspiration and fame through magic in such a detached, unemotional writing style to leave the reader almost indifferent to the events.

Jeff VanderMeer will wake you up with his glowing writing style in the beautiful, insightful "Learning to leave the flesh" about a lonely man who works with words. So will Charlee Jacob with "The mist machine", an obscure but powerful tale set in the world of silent movies and their special effects, now gruesome, now lyric, with the occasional concession to Jacob's usual taste for magniloquence.

Michelle Scalise's "The disinterment of Ophelia", concerning a bereaved poet who wants to retrieve a manuscript entombed in his wife's grave, has a certain fascination but the plot remains a bit confused and confusing.

The contributions by Leah Cutter, John Rosenman and David Niall Wilson seem to me quite unremarkable. Tim Lebbon's "Body" - a mix between SF and fantasy- appears completely out of place and, sadly, Tom Piccirilli's "The final staging of ascent" is just an awful tale about an awful performance of experimental theatre.

A few misfires, however, do not impair the overall high quality of 'Dark Arts', an anthology which represents an interesting showcase of classy genre fiction by writers who know how to produce good stories and how to tell them with style. Highly recommended.

Finally, for those who are interested in those things, the book has neither an introduction, which is probably a good idea (better to skip the introduction at all than providing the usual bullshit), nor biographical notes on the authors (and that's a pity).