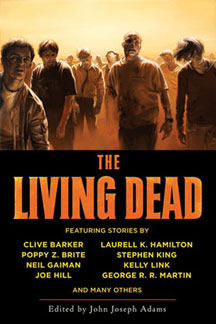 John Joseph Adams, Editor
The Living Dead
Reviewed by: Mario Guslandi © 2008

Nightshade Books
US First Edition Trade Paperback
ISBN 978-1-59780-143-0
500 Pages $15.95
Publication date: 09-29-2008
Date reviewed : 11-14-2008
Index: Horror Science Fiction Fantasy

You may like them or not, but zombies (like vampires and werewolves) are standard characters in horror fiction. I've always thought that the subject of the living dead had only limited possibilities in terms of plot and atmospheres but now, thanks to the massive reprint anthology assembled by John Joseph Adams, Im starting to reconsider. The editor has selected thirty-four short stories revolving around zombies, thus producing a state-of-the-art volume which explores the theme from any possible angle and provides, unpredictably enough, a good variety of atmospheres and situations.

Inside the book you will find for instance, a schoolteacher facing single-handed a class of zombie children ( Dan Simmons' classical "This Years Class Picture"), the cute portrait of a man obsessed with zombies ("Some Zombie Contingency Plans" by Kelly Link), Custer's soldiers rising from their graves to bring death and destruction ( Sherman Alexie's vivid and fascinating "Ghost Dance"), a woman turned in a zombie due to an extreme and lethal sex game ("Blossom" by the prolific David J. Schow) and a future world where zombies act either as useful servants or as obedient sex toys ( the original and entertaining "The Dead" by Michael Swanwick).

While the entire book is consistently good, some stories deserve a special mention. Dave Bailey provides "Death and Suffrage" , an excellent piece blending the unusual theme of the dead rising to vote for the USA presidential elections with more subtle, personal tragedies. Darrell Schweitzer contributes "The Dead Kid", a stylish, effective tale where a zombie kid, prisoner of a gang of bullies, is finally released by a brave boy.

In the superb "Sex, Death and Starshine" by Clive Barker, a theatre company gets help from a couple of zombies, including a splendid actress ready to play Viola in The Twelfth Night, while in the delightful western tale "Deadman's Road" Joe Landsdale presents us again with the stern Reverend Jebidiah Rains, this time busy haunting a criminal turned into an evil zombie.

Lisa Norton's "Sparks Fly Upward" is an unconventional zombie tale in which a woman faces the ordeal of abortion in a world plagued by the undead. By contrast in Stephen King's "Home Delivery" a courageous woman decides to carry on with her pregnancy despite the zombie outbreak. In "Meathouse Man" George RR Martin demonstrates that loving a woman whos alive is much more complicated than having sex with zombie girls.

"Calcutta, Lord of Nerves" by Poppy Z Brite, is a powerful story where the Indian city constitutes the gloomy setting for the appearance of voracious living dead and Nancy Kilpatrick's "The Age of Sorrow" is a graphic piece portraying a woman as the last living survivor in a dark universe ruled by zombies.

In some instances the deeply physical nature of the typical zombie tale is abandoned in favour of a more subtle approach as in the cute "Bitter Grounds" by Neil Gaiman where the main character takes the place of a professor of anthropology in a professional convention with unexpected results; or in "Followed" by Will McIntosh, a gentle variation on the theme depicting zombies (in this case a dead little girl) as harmless corpses silently following selected people.

My favorite story is the truly outstanding "Passion Play" by Nancy Holder, inspired by Oberammeraus Passionspielhaus, where, as a zombie plays Christ's role and is crucified, the plague breaks out again in punishment.

If the reader is smart enough to take a morsel now and then instead of devouring the whole book without a break (after all theme anthologies are inevitably a bit repetitive) this volume is going to supply many exciting reading sessions throughout the upcoming winter.