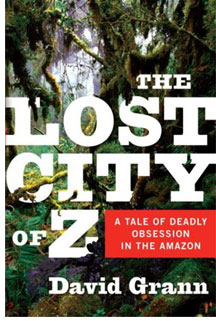 The Lost City of Z
David Grann
Reviewed by: Rick Kleffel © 2009

Doubleday / Random House
US Hardcover First Edition
ISBN 978-0-385-51353-1
Publication Date: 02-17-2009
368 Pages; $27.50
Date Reviewed: 01-24-2009

Index: Non-Fiction Fantasy Horror
General Fiction

We write in order to create armchair adventures. We use words to build worlds that others will never lay eyes on, whether they are external or internal, real or imagined. In these worlds, men have adventures, they push boundaries, they explore. But these days, with satellite imagery and global positioning, it's easy to think we know it all and that we've been everywhere. That's not the case, and David Grann's 'The Lost City of Z' is an old-style grand adventure that proves not only how little we still know about our world, but also how powerful the tales of these adventures are, on a number of levels. This is without doubt one of the most gripping and enjoyable books you're going to pick up this year, but it is also a testament to the power of the genre which it so ably represents. Your adventure reading this novel will rival the adventures within and make you yearn to share them. Do yourself a favor; call your travel agent before you read this book and tell him to disregard any requests or reservations you make after reading it, particularly those that send you to some sort of "green hell." This outstanding portrait of obsession and impulse is bound to inspire both in its readers.

'The Lost City of Z' is the story of two obsessed men; Percy Fawcett, an English explorer of the Amazon in the early twentieth century, and David Grann, the author, who falls under Fawcett's spell. Fawcett's story is itself utterly compelling — he explored the Amazonian jungle in search of a lost city and civilization, and eventually went upon a trip from which he never returned. In the years since, many have tried to find traces of both Fawcett and the city for which he searched, without success. When Grann learns of Fawcett, he too falls under the spell and, as the book begins, Grann finds himself in the midst of a hostile green from which there's a good chance he will not escape.

For all the wild adventure, the great scenes and the careful research on display here, what really stands out, by virtue of being practically invisible, is Grann's writing skill, on every level. His prose is rich and immediate. His portraits of Fawcett's life, from his birth in Victorian aristocracy to his life in Ceylon to his repeated attempts to penetrate the Amazonian jungle, are more gripping than the fiction his life inspired. That includes Arthur Conan Doyle's 'The Lost World,' setting the bar pretty damn high, but Grann leapfrogs fiction with documented reality and clean but descriptive prose. Grann's personal prose is equally compelling. He's a reporter for the New York Times, and maybe not the guy you'd think who would go down the rabbit hole of obsession. As it happens, he puts readers right there so superbly, many are bound to feel the same sweaty inspiration. The writing in the book is detailed and dense, but flowing, echoing the landscapes it surveys so well.

The trick here is telling the story, and Grann is more than up to the task. 'The Lost City of Z' is one of the most intricately plotted and exciting works of nonfiction you're going to find anywhere. Jetting back and forth between past and present, Grann keeps the suspense high but never sacrifices clarity or cheats the reader. 'The Lost City of Z' is an intricate, exciting work that keeps the pages turning as compulsively as any fictional thriller. Grann's inter-cutting between his story and Fawcett's is in itself a superb literary construct that will deserve attention long after the mysteries in the book are revealed.

And yes, they are revealed in a manner both satisfying and believable. That's not a given since, as Grann explains, the concept of a civilization in the jungle goes against the grain of prevailing theories. But against the odds, Grann manages to unearth and present to readers a stunning vision of exhaustion and exploration. From a trunk in an attic to a remote village in the Amazonian jungle, Grann's story is by turns terrifying, spectacular and unique. If you've ever thought that all the adventures on this earth were over, that "They don't write 'em like that anymore," then 'The Lost City of Z' will open up the world, your world, your vision — and fill it with authentic wonder.