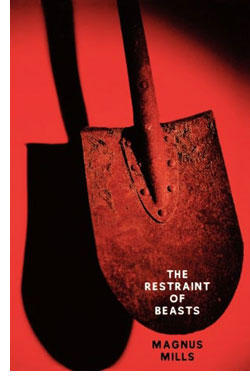 Magnus Mills
The Restraint of Beasts
Arcade / Little, Brown
US Hardcover First Edition
ISBN 1-55970-437-3
Publication Date: 09-07-1998
213 pages ; $22.95
Dates Reviewed: 01-18-1999, 09-16-2012
Reviewed by: Rick Kleffel © 2012


Index: General Fiction Horror Fantasy Science Fiction

Simplicity survives. It had been more than thirteen years since I first read 'The Restraint of Beasts,' but when I picked it up this morning, the pages moved so fast I could barely believe it. And Magnus Mills dystopian, disturbing vision of a world going quickly to hell still feels as fresh and as relevant as the first time I read it. Here's a book you can buy for a song and probably read once a year, to find new laughs and chills.

Mills, a bus driver in London, very nearly won the 1999 Booker Prize for 'The Restraint of Beasts', a nasty little joke about three itinerant fence builders who have a dark secret and an almost earth-shattering ineptitude. It's one of those wonderful novels that lives in the netherworld between respectable fiction and those lurid books with lots of foil and blood-dripping knives on their covers. If brevity is the essence of wit, 'The Restraint of Beasts' is a Mozart awash in a sea of Salieri's. At 213 pages, it barely gets past the midpoint of the average horror novel, yet within, while almost nothing seemingly happens, everything happens, and it's a bad-ass world it happens in.

Mills is dry and to the point. An Englishman is given charge of two morose Scottish headbangers, and sent to build high-tensile fences. Tam and Ritchie, the two Scottish louts, are sullen, lazy men who specialize in smoking cigarettes and finding a pub to sit in. Their first assignment under the unnamed narrator is to repair Mr. McCrindle's fence, which has gone slack. While doing so, there's a horrible accident. They clean up and move on to the next site, which is in England. Our boys are not keen on the English. Trouble ensues.

Mills' matter-of-fact rendering of these absurd situations is excellent, filled with dry-as-dirt wit. He creates a world that is so confined to the character's perceptions as to seem slightly unreal. Then, he escalates the situations and the world, successfully creating a world that is truly unreal and even more threatening than a life of pounding fenceposts into the ground. In England, the crew encounters competition: The Hall Brothers. But the Hall brothers aren't just fence builders. They're butchers. They make sausages. They need the boys to build some pens.

Mills is very skillful at sliding from a world of tedium into a world of terror. By restricting his point-of-view to that of his brainless headbangers, he uses a very literary device to create a very horrific world that is simultaneously laced with humor. The horrors he hints at are vast and beyond the comprehension of the characters who perceive them. He successfully creates a sort of blue-collar Lovecraftian feel. 'The Restraint of Beasts' is an excellent first novel, and a real change of pace that will delight a large segment of horror readers looking for a laugh.