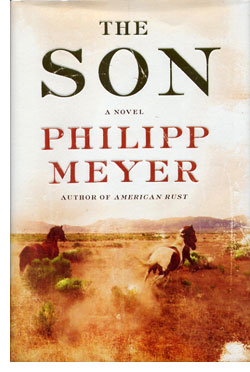 Phillip Meyer
The Son
Ecco / HarperCollins
US Trade Hardcover First Edition
ISBN 978-0-062-12039-7
Publication Date:05-28-2013
562 Pages; $27.99
Date Reviewed: 08-08-2013
Reviewed by: Rick Kleffel © 2013


Index: General Fiction

Editor's Note: 'The Son' is exciting, shocking, thrilling and page-turning. It is extremely violent but powerfully, not exploitatively so. The characters are vivid, intense and engaging. No matter what your tastes in fiction, you'll have a hard time putting it down. Buy it while you can still get First Editions / First Printings. We now turn control of the review back to the non-frothing.

Story is power. Words control families, countries, empires, and worlds. 'The Son' by Phillip Meyer begins with a transcription of a 1938 WPA recording of Eli McCullough, who claims to be 100 years old at the time of the recording. By the end of the novel, you'll have lived through those 100 years and more; Eli's life, his family and two other members of his family whose stories wind through to the present. It's a powerful, purely American story that builds, word by word, a world that no longer exists but is transformed into ours. Meyer rips down into the core of what's human to craft indelible memories. 'The Son' builds a world from words with the power of pure story.

Immerse yourself at your peril, because Meyer's story is raw, violent, often horrific and full of intense emotion. The craft at work here is subtle and astonishing. Meyer begins the novel taking us from one timeline to another through an almost 200-year history of the McCullough family.

The fabric of the story comes together slowly at first, though each episode is rendered in gorgeously sparse prose. Eli McCullough is 13 years old when his life is changed on the Texan frontier. It's a battle zone, and he's on the losing side. His son, Peter, manages to make a life for his family, and his great-grand-daughter, Jeannie, must do the same. From Comanche raiders to the descendents of Spanish landowners, from wildcat oilmen to 21st century market manipulations, Meyer takes us through three lives and six generations.

For all the grandeur that emerges, each word, each story, each chapter feels incredibly sparse and to-the-point. The prose is stripped and bare-knuckled, intense and often shockingly easy-to-read. Meyer is able to lead the unsuspecting reader into scenes of intense emotion or violence so naturally, with such little warning that they come with the terror of the unexpected. For all the rich power of the prose, 'The Son' proves to be page-turner of the first degree.

It helps that Meyer creates a great cast of characters with slightly oddball, individual American voices. Eli is rebellious and intense with good reason. Peter, his son, is more contemplative, considering if not always considerate. Jeannie is a woman who had to compete in the Texan world of men and won. She's aware of what she's lost in the process, but not willing to regret her decisions. In any given forty pages, you'll find as many well-drawn characters as you will in any other novel. Meyer' sparse prose style works well for the creation of memorable characters.

Meyer's world-building and plotting skills are impossible to untangle and beyond compare. The physical descriptions of the early Texan frontier and life among the Comanche are gritty and engaging; equally so, the Texas wildcatting days and the oil boom. Eli, Peter and Jeannie's stories are intricately intertwined stories of power, sacrifice, and civilization. They are compelling because Meyer's prose takes us seamlessly into their worlds and makes those worlds ours.

Check your expectations when you pick up Phillip Meyer's 'The Son.' Here is proof that story transcends all boundaries of genre and subject, that prose overpowers history and experience to create new histories, new experiences that run raw into our minds. Here is a book where the power of story builds a world that is ours word by word. 'The Son' lives up to Texas's reputation.