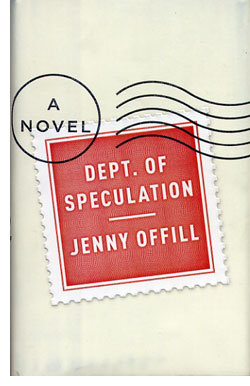 Jenny Offill
Dept. of Speculation
A;lfred A. Knopf / Random House
US Hardcover First Edition
ISBN 978-0-385-35081-5
Publication Date: 01-20-2014
182 Pages; $22.95
Date Reviewed: 02-13-2014
Reviewed by: Rick Kleffel © 2014

Index: General Fiction

Our world is exploding and it is not surprising that our stories, our sense of stories might as well. Jenny Offill's 'Dept. of Speculation' is an intense, epic series of glimpses at a very simple story, complicated by our very complex world. It's a single-session reading, with the feel of the surreal, but not the unreal.

Offill's vision of a story as the bits of detritus that swim in our consciousness is gripping, powerful and even fun to read. But the wounds it examines, the wounds it leaves in our minds are all too real.

'Dept of Speculation is the story of a relationship, pretty much from the beginning to the end, but Offill's concept of "story" is extremely unusual and engaging. Her experiment is to tell her story in offhand paragraphs, what might in another era have been called "sound-bytes," but in this day and age we'd have to identify as the glimpses afforded to women and men whose lives are shattered by too much information and too many events.

As the novel begins, the wife speaks of "you and I,' and we see love happen, followed by marriage and a child. The baby is difficult, the little girl is charming, but the marriage is not easy. The wife's mind is not up to the task, and as the novel unfolds, the traumas so easily found in an unspectacular life take an unkind, then frightening toll.

Offill is an incredibly skilled and controlled writer, creating a narrative pull and intense tension that will have readers unwilling to stop reading until the book is finished. For all that this is a short book, easily read in one sitting, the story told here, while feeling simple is also quite epic. In the spaces between all those paragraphs, Offill skillfully lets readers experience a tragic, big story.

While the novel is in every sense a realistic and detail-oriented take on marriage, there's a feel of the fantastic here, imparted because Offill creates her spaces with such a precise architecture. 'Dept. of Speculation' (the return address the husband and wife put on their love letters) is a searing, almost scarring novel to read. The descent of a domestic life into dizzying chaos proves to be infinitely more enjoyable to experience in prose for the readers than it is for the all-too-real-feeling characters.