11-16-11:
Gianni's North Beach
Cooking Cioppino
I am not a particularly energetic cook, but I do actually cook from recipes, and for many that effort alone means that I capital-L Love to cook. I certainly love a good cookbook, and having an assortment of cookbooks to hand means that you can generally put some variety in your diet and have a pleasant reading experience as you do so.

While one might think that the web would be good source of recipes, in general it's not. Cooking sites are so larded with advertising that one can hardly find the recipes, and I avoid almost all of them, with one notable exception; Gianni's North Beach, where readers can find a website that won't make their brains hurt, and recipes that are so absurdly simple and delicious that you really wonder why nobody ever thought of them before.

Gianni's North Beach first came to my attention via Boing Boing, when Mark Fraufelder posted a link to Gianni's porchetta video. The key was that I was able to actually see in the image that the guy making the food was rolling up meat and herbs. I was sold, and when I went to watch the video, it was short, smart and made the recipe look really easy. The web page underneath the video was nicely laid out, and the recipe itself was clear. When I made the meal and it turned out to be as easily cooked as the video made it out to be, and tasted as delicious as it looked, I was sold. I've been cooking from the site ever since, for about a year now.

While I have not made every recipe, I've made many and all of them have turned out excellent. A few have become staples around the house, because they are absurdly easy to cook and incredibly delicious; the rosemary chicken is a great example of this.

I went to interview the chef behind the site, Gianni Mola, and when I arrived he had just tossed some garlic in a pot to begin his recipe for Cioppino. It smelled so great that I had to go ahead and make the recipe just about as soon as he posted it. Like all of the recipes I've tried, it's dead easy and wonderful to serve and eat. Gianni has a vegetarian recipe e-book available, and like the website it is well worth your valuable time.

I know that there is a "slow cooking" movement but not much beyond it, so I don't know if my example of cooking fits in that movement, or if I'm just pokey and lazy when I set about to cook. Here's how I went about making Gianni's recipe for cioppino.


Here are the ingredients, gathered on a cutting board, with the clams and mussels soaking in salt water with polenta.


Prepping and starting to chop the vegetables.


Lots of EVOO (Extra Virgin Olive Oil) in the heavy enameled pot.


Chopping the peppers.


Saute the peppers, onions, bay leaf.


Add the hand-crushed ItalBrand and Strianisi "DOP" tomatoes, oregano and torn basil. Cook that for about an hour, stirring, adding back wine.


Add seafood, cook 10-15 minutes, it's done — and tastes like a $25 a plate restaurant dish.
---
11-15-11:
Mollie Katzen's 'The Vegetable Dishes I Can't Live Without'
From the Podcast-a-day Files
Editors Note: I remember this so clearly — getting the cookbook, and the excitement of interviewing my first bookbook author. I was especially intrigued because, I'm no vegetarian, but the dishes in Mollie Katzen's 'The Vegetable Dishes I Can't Live Without' were so good and so easy, I was stoked. This was early on in my podcast-a-day days, and I was spending a lot of time in the little office in the back of Capitola Book Cafe. Mollie turned out to be one of my favorite interviews ever, and I've been a fan ever since. Here's a link to our first conversation.
---
I knew it would come to this, sooner or later. I knew I would start writing about cookbooks; I just had to find the right one to wrap my brain around. That proves to be Mollie Katzen's 'The Vegetable Dishes I Can't Live Without' (Hyperion Books / ABC ; October 9, 2007 ; $22.95). I've looked at a few other cookbooks as they came into KUSP, but they were a little complex for my tastes. When I see a recipe with a long list of ingredients, most of which I don't have on hand, I tend to flick past it quickly. That's not necessary with Katzen's admirably simple cookbook. But don't take that to mean the recipes aren't top-notch.

Here's what happened. Since I'm now podcasting on a daily basis, I look for authors who are swinging into town to give things a bit of audio variety and help my phone bills. (Oh the misery the month I spoke to Peter F. Hamilton and Xiaolu Guo in the UK.) I noticed Katzen was going to be at Capitola Book Café on Monday, October 29, and set up an interview, which you'll hear later this week. But first, I wanted to report my unfiltered thoughts on the cookbook before I talked to the author.

It is, in a word, totally outstanding. Now, look. I'm a guy who thinks some of the best food on this planet can be found at the Central Texas Barbecue in Castroville, California. I am told that only I could find CTB in the home of the artichoke. (Remember that vegetable! Or as Frank Zappa would say, "Call any vegetable!") The meats they serve there are like dessert, they're so flavorful. I mention this to help readers understand that I'm not necessarily inclined to jump up and down for a vegetarian cookbook. But Katzen's book has a lot of things going for it beyond the great recipes. I'll talk about those later, but I do have to throw in some book geek stats.

First off, this is a book with no DJ, a nicely printed cover and it's only 144 pages. It's 8 1/2" by 11", a nice comfortable familiar format. It's easy to take it with you to the grocery store — I did so, in fact. Katzen illustrates her own book and it's printed in one of those handwriting-like fonts. The latter could prove to be precious or annoying, but it's neither because it's easy to read. The illustrations are nice, and the effect is that you've got some mom-with-nice-handwriting's notebook. It easily lays open with you're cooking or shopping. As a piece of book tech for cooking, it's just dandy.

Which would not mean doodely-ooodely if the recipes weren't both make-able and edible. Or frankly, beyond edible, that is totally delicious. Again, the recounting. So, I'm signed up to interview the cookbook author and I decide to make some of the recipes, to find out if they're any good, frankly. I've never interviewed a cookbook author before. When I interview a literary author, I read the book, in an attempt to "use" as it is supposed to be used. So I tried the same thing here, and made one recipe that sounded good to me: Stir-fried carrots, red peppers and red onions with roasted cashews, and one that my wife liked, the one that lead off the book, Artichoke Heart and Spinach gratin. The latter didn't sound so hot to me, but like the former it involved ingredients that I had or were readily available at the local (1 mile away) grocery store, Deluxe Foods of Aptos. (It's a locally owned store.) So, first I go to the store. I ended up spending $26.66. For two dishes, that's a lot. But it included raw cashew pieces ($4.99) that I used like, 1/4 of, and fresh parmesan cheese ($6.48) that I used only part of and 2 quarts of milk @$1.59. The only expensive part of the meal that was entirely consumed was the frozen box of artichoke hearts, which clocked in at $3.99. Overall, that made the whole deal not so fiscally painful.

I tend to cook way in advance, so I started early. The directions called for chopping, etc, and the prep was utterly painless. I first put together the gratin, then popped it in the over while I prepared the stir fry. Oh wait, first, before that I roasted the cashews. But still, pretty much only 40 minutes to put the two dishes together, and damn. Just following the recipe like a chemistry experiment (well, I did add a lot more garlic than called for, tablespoons instead of teaspoons, and I threw in some cooking sherry into both recipes), but still largely, say following the recipe word for word, the results were stellar. It really tasted like restaurant food and we every damn but of both dishes. Both were easy, required no exotic foods and came out exactly as described. I did put in all optional ingredients (pineapple and ginger in the stir fry). We didn't heave a meat entrée for dinner and we didn't miss it. So, my totally unscientific experiment informs me that two recipes chosen at random from "just under 100" are outstanding. If you wanted to buy a cookbook you might use, even if you are a dedicated meatatarian, this cookbook will do. No CTB takeout required, damnit. Stay tuned and you'll hear my conversation with the author. We'll see how this cookbook-author interview biz goes.
---
11-14-11:
Jeff Hertzberg, M. D. and Zoe Francois Make 'Artisan Pizza and Flatbread in Five Minutes a Day'
Plan Your Exercise Regimen First
Cookbooks are sort of addictive. To a degree, you can never have too many. Novelty matters. But it's important that cookbooks are usable, and that has two meanings with regards to cookbooks. The first, for me, is that the recipes within are inviting to make. You show me a recipe with too many ingredients, or a recipe that has too many steps, and my eyes glaze over. Short ingredient lists for recipes, sad though it may be to admit it, make those recipes inviting. The second aspect of usability in a cookbook is that you have to want to make the meals. It's not just that they taste good, but they have to fall into some matrix of tasty, hearty, comforting — food that you actually want to make as opposed to food you just want to eat.

It's tempting to think that the first book by Jeff Hertzberg, M. D. and Zoe Francois, 'Artisan Bread in Five Minutes a Day' is all you need. It's got a fine recipe for pizza olive oil dough that works well and with which you can make pizza for two weeks, should you be inclined and exercise enough. But 'Artisan Pizza and Flatbread in Five Minutes a Day' offers a lot more than dough; these are recipes for a variety of flatbreads, pizzas, toppings and at least one this-recipe-justifies-the-price-of-the-book dessert. Buying this book is going to get you into the kitchen, cooking your own food for a fraction of what you'd pay for take-out versions that will seem exorbitantly over-priced and pretty gross compared to what you can do at home — easily.

The book is set up the same way the authors' other books are set up, with specifics that address the types of food being made here. You'll find out more about pizza and flatbread specific tools and in particular the Holy Grail of pizza dough, 00 flour. You probably will not be able to find this sort of flour in the local chains, even the healthier-than-thou versions. But your local grocer is likely to carry it; it comes in much smaller (1000 g) bags. I found Napoli Caputo Brothers flour.

The gotcha with regards to pizza is your oven. Channces are it only goes up 550 F; if you wanted to really make pizza the Italian way (they have laws, and those laws are in the book), you'd do so in a wood-fired oven of 905 F. That's where the good flour and your pizza stone come in. Between the two, you can get close enough to put your local chain pizza delivery service out of business.

Of course, what you put on top of the dough comprises a big part of the book, and the authors have plenty of ideas that are easy and delicious. The general theme is "less is better," as the challenge of cooking a pizza is getting it off the peel and onto the stone without having it turn inside-out. The authors give plenty of tips and recipes that turn out with restaurant-quality taste and not a lot of fuss.

There's more than pizza and topping recipes here; the flatbreads are fantastic, just as easy, and quite importantly, pretty far off the beaten path. The theme is the same; make the dough in advance and then all you have to gather a few toppings (or dips) and you have a quick, delicious meal.

All of this is of course supported by a website, Pizzain5.com. There are links to corrections, reviews, videos and everything you need beyond the book. They're running a World Wide Pizza Party tomorrow on Twitter (#PizzaPartyin5), and I trust you'll not be shocked to find out they've got a YouTube Channel as well.

Going beyond savory food, which does not seem easy, proves to be quite easy, with a skillet apple pie that is beyond the beyond. It's a lot easier than "Mom's," far beyond anything you can get at your local bakery and it looks devastatingly delicious. There is a catch to all this; the food is great, the food is inexpensive, the food is easy. The catch is that you'd better plan on a lot more exercise time to run it off, lest you begin to resemble a certain advertising icon last seen lumbering down the streets of New York.

Here's my Pizza in Five:



First, the ingredients are out.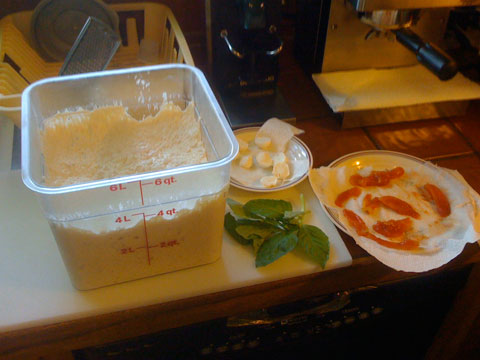 The dough ball.
Flatten the dough with knuckles and let it sit for ten or so minutes.
Olive oil the dough.
Put on the toppings, then slide into the oven.
Out of the oven, ready to serve, ten or so minutes later.
Apple, brie and culatello ham tart, ingredients.
Apple, brie and culatello ham tart, finish.
Turkish spiced lamb flatbread (Lahmacun) ingredients.
Sautee onions with spices, including paprika, cumin and freshly-ground coriander seeds.
Add one pound ground lamb.
Condiments and cooked lamb, cooling, ready to stage onto flatbread.
Cooked flatbread with condiments. (Arugula instead of parsley.)
Turkish spiced lamb flatbread (Lahmacun) as served.
---